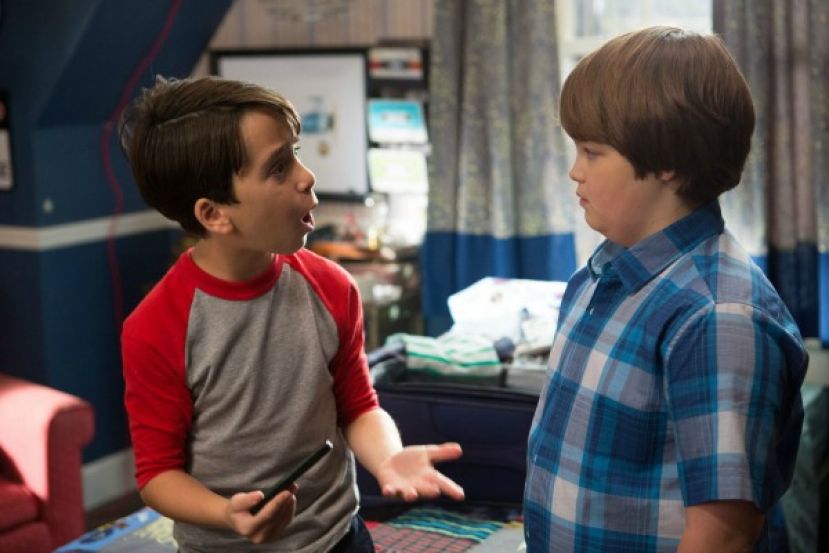 The Diary of a Wimpy Kid: The Long Haul movie cast centers on the Heffley family: dad, (Tom Everett Scott); mom, (Alicia Silverstone); Greg, the diary writer himself, (Jason Drucker); older brother, Rodrick (Charlie Wright); and younger brother, Manny (Dylan and Wyatt Walters) take off from their middle class abode to travel to Grandma Meemaw's 90th birthday celebration. The multi-day journey in the family auto turns into an endurance and even a test of survival.
The key to any successful book, movie or play is conflict. What the characters have to overcome in the story being told. And the screenwriter of Diary of a Wimpy Kid: The Long Haul, Jeff Kinney, and director David Bowers, take every opportunity to place hurdles in the way of the Heffley family trying to make it to Meemaw's. This is conflict overload.
They start with battles between Greg and his brothers, parents listening to old folks music (in this case it's The Spice Girl's wannabe) road rage, vomit, a pig passenger, attacks by birds and so much more. And it all works! Dairy of a Wimpy Kid: The Long Haul, gets a See It! rating.
The cast is solid; however, the older son doesn't look like he'd be the kid of these parents. If this was real life, I would suggest that the dad book a date on one of Maury Povich's paternity test shows.
At 91 minutes, it moves at just the right pace and will entertain kids and adults alike.
As to cast diversity, this movie gets a "B" no major roles for people of color but a strong presence in minor slots and background scenes.
Dairy of a Wimpy Kid: The Long Haul, shot in Atlanta, is rated PG for rude humor.
Dairy of a Wimpy Kid: The Long Haul is a See It!