Jay Z Causes an Uproar with NFL Partnership Announcement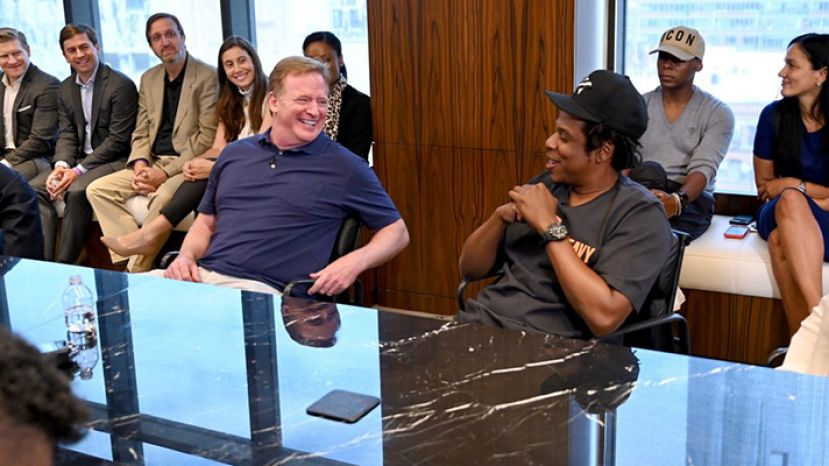 Photo Credit Unknown
NFL commissioner, Roger Goodell (left), with hip-hop business mogul, Jay Z, announcing Jay Z's company's partnership with the NFL.
Jay-Z in talks with NFL to buy a share of one of the league's flagship franchises, report says
Rapper and business mogul, Shawn "Jay Z" Carter, caused an uproar when he announced that he is partnering with the NFL. Even Colin Kaepernick, who was essentially kicked out of the NFL for kneeling during the US National Anthem, isn't pleased with this development.
The rapper's decision to do business with the NFL has caused an uproar among some of Jay-Z's biggest fans as it's seen as a slight to former NFL quarterback, Colin Kaepernick, and his movement.
Social justice advocates see Jay-Z's coziness with the NFL as a slap in the face to the movement Kaepernick started with kneeling during the National Anthem before the start of NFL football games. Kaepernick has always stated that his kneeling was to shed light on police brutality and the oppression of minorities throughout the country.
According to a press release issued by the NFL, Roc Nation, the entertainment company founded by rapper and businessman Shawn "Jay-Z" Carter, is entering into a multiyear partnership with the NFL to enhance the NFL's live game experiences and to amplify the league's social justice efforts.
As part of the agreement, Roc Nation will advise on the selection of artists for major NFL performances like the Super Bowl. A major component of the partnership will be to nurture and strengthen community through football and music, including through the NFL's Inspire Change initiative.
The NFL formally launched the Inspire Change initiative in early 2019, after more than two years of work with NFL players, with the goal of creating positive change in communities across the country. Through this initiative, NFL teams and the league office work with the Players Coalition and other NFL players to support programs and initiatives that reduce barriers to opportunity, with a focus on three priority areas: education and economic advancement; police and community relations; and criminal justice reform.
"With its global reach, the National Football League has the platform and opportunity to inspire change across the country," Carter said in a press release. "Roc Nation has shown that entertainment and enacting change are not mutually exclusive ideas -- instead, we unify them. This partnership is an opportunity to strengthen the fabric of communities across America."
Carter added during an August 14, 2019, Q&A with select media, "I'm really into action -- I'm into real work. I'm not into how it looks. How it looks only lasts for a couple months until we start doing the work. I've been in this position many times. Take Tidal as a great example from five years ago. Now, people look at it today, people have a different outlook on it. But at the time, people didn't see what was going on. So I've been in this position many times. I just show up and do the work, I'm not interested in how things look on the outside. If protesting on the field is the most effective way, then protest on the field. But, if you have a vehicle that you can inspire change and you can speak to the masses and educate at the same time."
Carter said the platform that the NFL provides speaks to the work in the community that the league and Roc Nation can do together.
"Inspire Change is already happening (with Roc Nation) and the NFL has a huge platform," he said. "We can use that huge platform, and we've seen it happen. Like with J.J. Watt, when he brought the aid to everyone in Houston, everybody forgot about the turmoil that was in the NFL. If you can use this platform to do that in different areas, that's a home run. That's how I would view a success. That's success for me."
Roc Nation also will work with the NFL to create and distribute content across multiple music streaming services for a variety of initiatives.
"Every conversation I've had with Jay has been inspiring," said NFL Commissioner Roger Goodell. "Not just on his perspective on the process of how we do the entertainment, but what we should try to achieve. We always say we should get better and we should evolve. We think we should partner with the best, and that's why we're sitting here. We believe we're partnering with the best. So, his perspective is going to drive us."
Q. Is this a good move for Jay Z and the NFL, and what do you think Jay Z hopes to accomplish in addition to making money?