Black Twitter Reacts to Ben and Jerry's Support of Black Lives Matter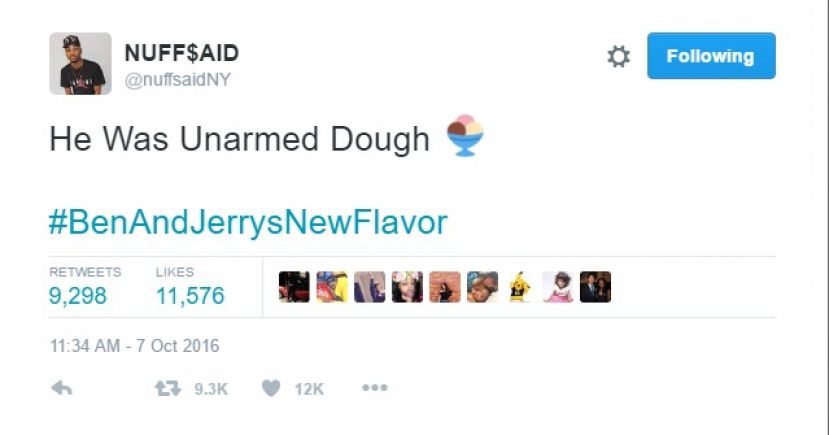 Photo Credit: Nuff$aid Twitter account
@nuffsaidNY posted a very creative Twitter in response to Ben and Jerry's support of the Black Lives Matter movement
Black Twitter floods social media with all types of creative ice-cream flavors to support Ben and Jerry's position that Black Lives do matter
This week, many people learned that Ben & Jerry's Ice Cream founders had made a powerful political statement about systematic and institutionalized racism and where they stand on #BlackLivesMatter. In part, the company wrote:
"We respect and value the commitment to our communities that those in law enforcement make, and we respect the value of every one of their lives.
But we do believe that — whether Black, brown, white, or blue — our nation and our very way of life is dependent on the principle of all people being served equal justice under the law. And it's clear, the effects of the criminal justice system are not color blind."
Black Twitter applauded and shared their picks for new Ben and Jerry's ice cream flavors; here is a sampling of what the producers of What's The 411TV found on Twitter:
@AllDefDigital – Cookies & C.R.E.A.M.
@nuffsaidNY – He was Unarmed Dough
@ejunioriii – Hands up, Don't Scoop
@Ebony – had several using some of its retro magazine covers: Stevie's Happy Birthday Cake and Diana's Supreme Dream Swirl and
@BeardedDre is on the same page with @Ebony with No Justice, No Peach
Really clever, really clever.