What's The 411 Episode 107: Hillary Clinton, Bernie Sanders, Tupac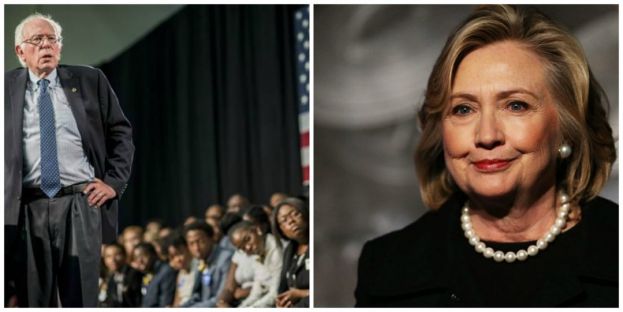 Photo Credit: For Bernie Sanders: Melina Mara/The Washington Post/Getty Images and for Hillary Clinton: Spencer Platt/Getty Images
Photo (l to r): US Senator and Democratic presidential candidate, Bernie Sanders, speaking to Black students at Benedict College, an HBCU located in Columbia, South Carolina, and; former US First Lady and Secretary of State, Hillary Clinton
Freddie Jackson gives an extended interview, Ridley Scott hopes Idris Elba will be James Bond, stars come out for Dress for Success and more
On this episode of What's The 411, we are talking about former US First Lady and Secretary of State, Hillary Clinton, and US Senator Bernie Sanders are coming to Brooklyn to give separate commencement addresses. Hillary Clinton will give a commencement address at Medgar Evers College, while Senator Bernie Sanders, who was born in Brooklyn, will speak at Brooklyn College's graduation ceremony.
Minnesota courts have whittled down the number of heirs to the estate of the deceased pop star, Prince.
Film director, Ridley Scott, told BBC Radio One that he hopes that actor Idris Elba would be the next James Bond.
Ifeoma White-Thorpe, a senior at Rockaway High School in Morris Hills, New Jersey. Ms. White-Thorpe received acceptances to all eight Ivy League colleges and Stanford University.
Dress for Success, an international not-for-profit organization that empowers women to achieve economic independence by providing a network of support, professional attire and the development tools to help women thrive in work and in life, held its annual fundraising gala at Cipriani Wall Street.
Popular rapper, Snoop Dogg, gave a heartfelt tribute to deceased rapper Tupac Shakur who was inducted into the Rock and Roll Hall of Fame.
We also have an extended interview with R&B singer Freddie Jackson, who has a new album, LOVE SIGNALS, with an expected release date in June. The album's first single, One Night, will be released on May 1st.