Weinstein's Sexual Harassment Allegations Exposes Hollywood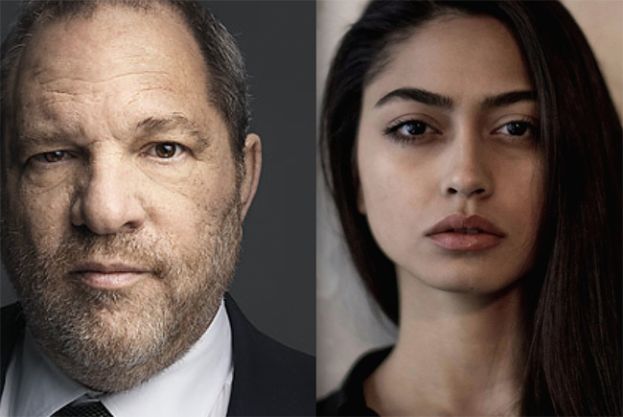 Photo Credit: Unknown
Harvey Weinstein (l) and Italian model, Ambra Battalina Gutierrez, who accused Weinstein of sexual assault in 2015, and Cy Vance, the Manhattan District Attorney (New York) would not take the case
Eminem drops freestyle diss of Donald Trump and crickets from Trump; 50 Cent Claps back at Wendy Williams; Tyrese's legal battle with ex-wife and; more
QUICK TAKES:
It's Breast Cancer Awareness Month and quite frankly, every day should be Breast Cancer Awareness Day especially for Black women. So don't ignore any irregularities with your breast and make sure that you or any woman you know gets her baseline mammogram at age 35 and every year after your 40th birthday, no excuses. In NYC, there are health facilities that provide free and low-cost mammograms, so no excuses!
By now, we all should have seen the movie, Hidden Figures, where Taraji P. Henson played the role of mathematician Katherine G. Johnson, also known as the human computer. As you know, Ms. Johnson did the mathematical calculations that helped the U.S. beat Russia into space. Well, the $30 million, 40,000-square-foot Katherine G. Johnson Computational Research Facility named in her honor finally opened!
Shonda Rhimes is among the 2017 Television Academy Hall of Fame inductees.
FOX orders five additional episodes of STAR for the current Season 2, and TV ONE'S BOBBI KRISTINA premiered #1 in its time slot among African-American households.
Aisha Hinds and Rockmond Dunbar join Angela Bassett in Ryan Murphy's Fox Series 9-1-1; LHHATL'S Waka Flocka Flame and Tammy Rivera land a spinoff reality show, MEET THE FLOCKAS; Peter Gunz and his wife, Amina Buddafly are taking their relationship issues to MARRIAGE BOOTCAMP REALITY STARS and; Jordan Peele surprised a UCLA class inspired by Get Out. The class is taught by celebrated author and educator, Tananarive Due.
In not so good news, NeNe Leakes was fired from the XSCAPE REUNION TOUR over a rape joke she stated while on stage. Nene later apologized for the joke and after a few days said she 'had a real breakdown' after rape joke backlash.
And, the bad news keeps pouring in for Megyn Kelly. Unfortunately, celebrity publicists are bailing on NBC's Megyn Kelly Today, so the show is having difficulty getting high-profile guests. Also, Megyn Kelly Today is not a good lead-in for Hoda Kotb and Kathy Lee Gifford's show as it is dragging down the ratings of that show.
WHAT'S POPPIN'
Harvey Weinstein and Rape Culture In America
After journalist Ronan Farrow's 8,000 word story, in which, 13 women made detailed allegations against film executive, Harvey Weinstein's decades of sexual abuse against women ran in the New Yorker, all hell broke loose. Women who were abused by Weinstein now feel emboldened to speak up and a number of men are ducking for cover.
Are you surprised that Harvey Weinstein is getting the Bill Cosby treatment?
EMINEM is BACK!
Hip-hop rapper, Eminem, slammed Donald Trump with his freestyle rap at the BET Hip Hop Awards. Although Eminem received widespread praise, everyone is not happy. Rapper YG feels like chopped liver because he and Nipsey Hussle released F--k Donald Trump in 2016, to some praise, but not nearly as much as the amount of praise that Eminem is receiving. YG posted his displeasure on social and then deleted it.
Judge Says Tyrese Gibson's Daughter Can Testify
It's been reported that since singer Tyrese Gibson remarried, he and his former wife and mother of his child, Norma Gibson, have been in an ongoing feud. According to TheBlast.com, a judge has given Tyrese's ex-wife, the option of calling their 10-year-old daughter Shayla to the stand if she chooses.
Is this a good strategy for Norma Gibson to call her 10-year-old daughter to testify in court?
50 Cent Claps Back at Wendy Williams
Talk show host, Wendy Williams, is used to people clapping back at her, but none like 50 Cents' hurtful barbs.
Fifty announced a party to celebrate the end of his court-ordered child support payments.
Wendy responded to 50-Cent's announcement saying, "You're 42. You got a 21-year-old son. Get your life."
Fifty was not happy and he posted on Instagram what many perceived to be very hurtful responses to Wendy Williams.
Wendy's fans seem to think 50 Cents went too far? Agree?
MOTIVATIONAL QUOTE OF THE WEEK:
Our Motivational Quote of the Week is:
"When a black voice is raised in protest to oppression, those who are comfortable with our oppression are the first to criticize us for daring to speak out against it." – Harry Belafonte