Dr. Christine Blasey Ford and Brett Kavanaugh: Gender Politics on Full Blast [VIDEO]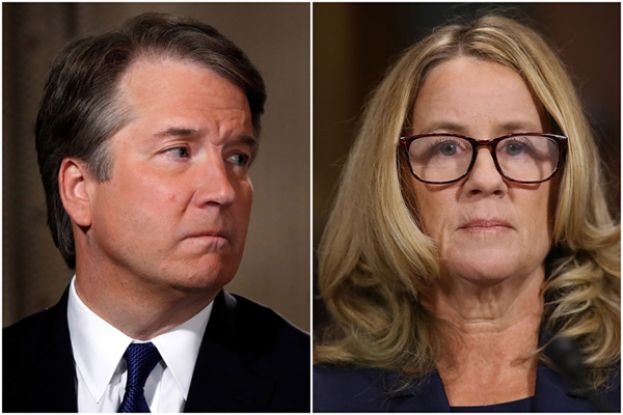 Photo Credit: Shutterstock
Gender politics were on full display at the U.S. Senate Judiciary Committee's hearing featuring Dr. Christine Blasey Ford. (Left to Right); US Appeals Court Judge, Brett Kavanaugh, and Dr. Christine Blasey Ford.
VIDEO DISCUSSION: Nelly settles sexual assault case; plus Katt Williams, Bill Cosby, Tyler Perry, Kanye, Lil' Wayne, and more!
WHAT'S THE 411's QUICK TAKES
In this episode of What's The 411 recorded on October 2, 2018, journalist Kizzy Cox, and comedian Onika McLean start off the episode with birthday wishes for Onika, and the acknowledgment of the death of Onika's cat, Glitter.
In this Quick Takes segment, Kizzy and Onika are talking about news stories related to film and TV producer Tyler Perry gifting a house to the mother of an actress who used to work for him; Lil' Wayne's new album, Tha Carter V; rapper Kanye West's antics and strange performance on Saturday Night Live, The rapper known as Nelly, settles a sexual assault civil case with Monique Green, who accused Nelly of forcing her to have sex with him on his tour bus; an Ohio police chief orders an FBI investigation into the arrest of porn star, Stormy Daniels, and; to end this Quick Takes segment on a high note, actor Geoffrey Owens, who was shamed by people on Twitter for working at Trader Joe's, is taking producer Tyler Perry up on his offer. Owens is going to appear on 10 episodes of Perry's hit, "The Haves and the Have Nots" on OWN.
WHAT'S POPPIN' – CULTURE & THE LAW: BILL COSBY
Actor, comedian, and philanthropist, Bill Cosby, who was once America's TV dad in the 1980s, has fallen from grace. A Pennsylvania jury convicted Cosby of three counts of aggravated indecent assault. The judge agreed with the prosecutors that Cosby is a "sexually violent predator," which carries a sentence that will last at least three years and no more than 10 years.
WHAT'S POPPIN' – CULTURE: KATT WILLIAMS' FEUD WITH OTHER BLACK COMEDIANS
It all started with comedian Katt Williams going after Tiffany Haddish's edges during a guest appearance on the Atlanta radio show, Frank and Wanda in the Morning. Williams also had a lot to say about Mo'Nique and Kevin Hart. Although Williams and Haddish made up at The Emmy Awards, Katt Williams checks Kevin Hart after Hart stood up for Tiffany Haddish. And now, the feud between Williams and Hart is amped.
WHAT'S POPPIN' – CULTURE & THE LAW: DR. CHRISTINE BLASEY FORD HEARING
Dr. Christine Blasey Ford takes center stage as the US Senate Judiciary Committee held a hearing to "afford" Ms. Blasey Ford with an opportunity to tell her story of an alleged sexual assault when she was a teenager by Judge Brett Kavanaugh, who is up for Senate confirmation to ascend to the U.S. Supreme Court. There were a number of takeaways from the hearing, but most people are shaking their heads over was a clash of gender politics.