What's The 411 Episode 69: Rick Ross; Spike Lee; Lee Daniels; Patti Pie; and Cynthia Bailey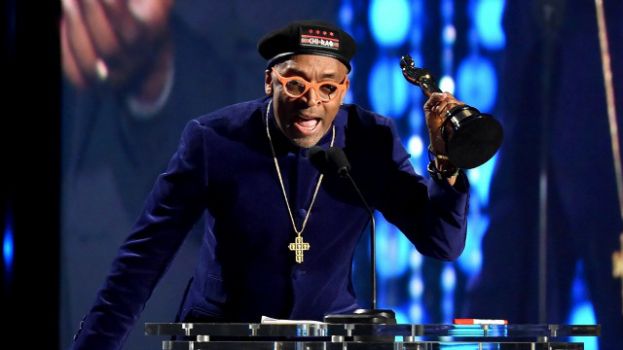 Photo Credit: AMPAS
Filmmaker Spike Lee giving his acceptance speech upon receiving an honorary Oscar from the American Motion Pictures Arts and Sciences seventh annual Governor's Ball
Rapper Rick Ross and Lira Mercer engagement is on again; Spike Lee puts Hollywood on blast; Patti Pies flying off the shelves
In this episode of What's The 411, the panel of Kizzy Cox, Onika McLean, and Courtney Rashon are talking about Rick Ross; Spike Lee; Lee Daniels; French President Francois Hollande's response to the attack on Paris; and Real Housewives of Atlanta's cast member, Cynthia Bailey.
What's Poppin'
Entertainment and Lifestyle mogul Sean "P. Diddy" Combs, while promoting his upcoming album at Hot 97 in New York, told the audience that President Obama should unapologetically spend billions on black people. We helped him get elected and like other constituencies we should be rewarded and so far the president hasn't done enough. Puff Daddy made sure it was known that he wasn't "going after Obama" but that he believed the President should give "nice parting gifts" to Black people before he leaves the White House.
A follow-on story regarding President Obama is, "It's raining Men!!!" Obama, Obama, Obama! President Obama is giving a huge Christmas gift to over 6,000 families. He has signed an executive order that will free nonviolent inmates that have been sentenced under harsh drugs laws imposed after America lost its war on drugs in the late 80s and 90s. In a letter written to one inmate, President Obama said "you have shown that you deserve a second chance, what you do with this chance is up to you.
======================================
Film and TV producer, Lee Daniels, may be close to a legal settlement. The "Empire" TV series co-creator and filmmaker may have come to terms with actor Sean Penn's lawyers regarding his statement about actor Terrence Howard's alleged spousal abuse by bringing up Sean Penn's name in a manner that implied that Penn abused women.
======================================
R&B legend Patti LaBelle's sweet potato pies have been sold exclusively at Walmart for weeks but this past weekend they were flying off the shelves after a video from Patti LaBelle fan James Wright Chanel went mega-viral!
The video snagged nearly 7 million online views because of its funny and raucous review of the pie.
After just one bite Chanel, who is also a singer, began singing a Patti song and said, "I turned into Patti after eating this" and he continued eating and singing Patti songs in-between bites of pie.
====================================
Rapper Rick Ross and exotic dancer Lira "Galore" Mercer are back together. The engagement is on again and the happy couple posted a pic on Instagram where Lira stated that they were going through a rough patch in their relationship, but it's now all good! Lira is sporting her engagement ring again. If you recall Rick Ross called it quits because pictures surfaced on social media showing Lira sitting naked on a well-known rapper's lap during her days as an exotic dancer. Will they get to the altar?
====================================
Filmmaker Spike Lee has once again put Hollywood on blast.
"Everybody in here probably voted for Obama but when I go to offices, I see no black folks except for the brother man at the security who checks my name off the list as I go into the studio," the director said while receiving an honorary Oscar at the Academy of Motion Picture Arts and Sciences' seventh annual Governors Awards. "So we can talk 'yabba yabba yabba' but we need to have some serious discussion about diversity and get some flavor up in this. This industry is so behind sports it's ridiculous.
"It's easier to be the president of the United States as a black person than be the head of a studio," he continued. "Honestly, it's easier to be president of the United States than the head of a studio or head of network".
Lee urged Hollywood executives to take a closer look at the people around them.
====================================
Rapper Benzino and his wife, Althea Heart, are having trouble in paradise. According to Hello Beautiful, Althea insisted that Benzino stay away from her and the baby while at the hospital. She even made Benzino sign the birth certificate in the room next door. And, she also ordered her mother out of the room! Whoa!
Could Althea's behavior be a symptom of post-partum depression?
====================================
FAB411: Caring for Curly & Coily Hair - by Courtney Rashon
Curly and coily hair can get wild, tangled, dry, and unruly at times. Here are 7 products that will help you maintain and manage your curls and keep them looking good and poppin' all day:
1. Miss Jessie's curly meringue
2. Kinky-Curly Original Curling Custard
3. WonderCurl Get Set Jelly
4. Shea Moisture Curl Enhancing Smoothie for thick curly hair
5. Curl Junkie Curls in a bottle hair styling solution
6. Matrix Biolage Curl Defining Elixer
7. Spiral Solutions Curl Enhancing Jelly
=================================
ON THE CARPET:
MAINSTREAM
MEDIA - by Kizzy Cox
I, like many people around the world was appalled and saddened by the senseless terrorist attacks that injured hundreds and killed 129 people in Paris. ISIS like Al Qaeda before is a terrible scourge and threatens freedom in many parts of the world. In light of that, I thought the wall-to-wall coverage the attacks received was appropriate and warranted. BUT, it bothers me that the same attention is not brought to terrorist acts that happen when the victims are black and brown and are in locations outside of the Western world. When terrorists killed a few dozen people in Paris who worked at Charlie Ebdo earlier this year, it also received extensive coverage, as it should have. However, what about the Kenyan massacre where Al Shabob killed 147 students at a Kenyan University back in April. Where was the extensive coverage? Kenyans are also our allies against terrorism. There is no ongoing Civil War in Kenya, which would make these types of attacks commonplace. The casualties in Kenya were also innocent victims--young college students. And yet, little coverage was given.
Racism works very subtly; so subtly sometimes we don't see it happening, but racism isn't just about what we see it's also about what we don't see. Thousands upon thousands have also been killed in the wars in Iraq and Afghanistan, and Syria is being torn apart by war but those victims are brown and a world away. True we can't always control what images get shown to us or what the media chooses to cover but in the age of social media WE ALL HAVE THE POWER to drive narratives, when we do the media will have no choice but to follow.
==================================
Reality TV Recap
The Real Housewives of Potomac, Maryland
The Real Housewives franchise has added two more cities. The Real Housewives of Dallas and The Real Housewives of Potomac, Maryland; is airing on Bravo in January 2016. The Housewives of Potomac will feature wealthy African American women who reside in a sophisticated community. It will also include Courtney Rashon's friend, Charisse-Jackson Jordan, who is the socialite wife of former NBA coach Eddie Jordan, who is now the basketball coach at Rutgers University.
The Real Housewives of Atlanta
The What's The 411 panel is sick of Peter's treatment of his wife Cynthia Bailey. They believe that it is time for Cynthia Bailey to kick Peter to the curb. Do you agree?
Untying The Knot
What in the hell is a "Hall Pass"?!, asks Onika McLean.
I know you guys remember Tiny and Toya - well just in case you don't, Toya Wright is the mother of Lil' Wayne's oldest daughter. Toya and her estranged husband, Mickey "Memphitz" Wright are joining the reality TV show, Untying The Knot. When the couple sat down to discuss the particulars of their relationship, the mediation lawyer asked Mickey, "do you cheat on your wife?" Mickey responded, "No - not without "a Hall Pass".
Can you imagine, Toya gives her husband a hall pass 8 times a year where he can be with other women no questions asked?
Would you give your husband or wife a hall pass?