What's The 411 Episode 74: Beyonce, Janet Jackson, Denzel, Taraji P. Henson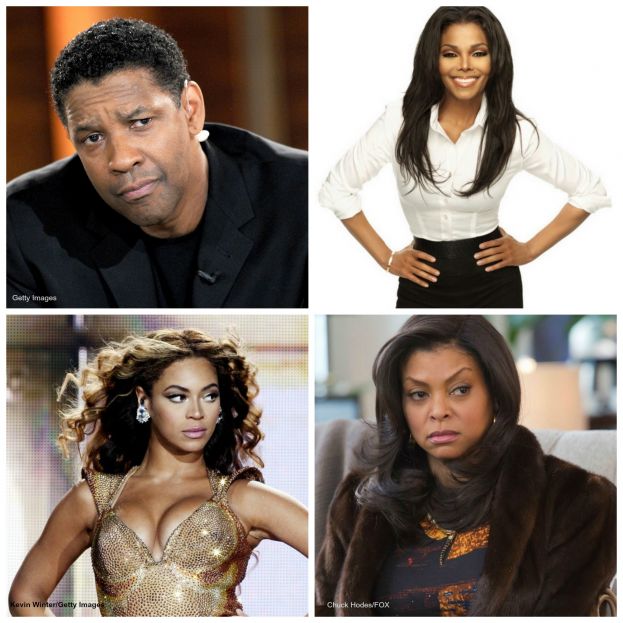 Photo clockwise from top left: Academy Award-winning actor Denzel Washington, pop star Janet Jackson, award-winning actress Taraji P. Henson, and pop star Beyonce
John Boyega Makes Forbes Top 30 List, Monique Pressley serves up the media something proper, Fay Ann Lyons sets the record straight
411 QUICK TAKES
Academy Award-winning actor Denzel Washington received the Cecil B. DeMille Lifetime Achievement Award at the Golden Globes Awards Show; and actress Taraji P. Henson won a Golden Globe award for best actress in a drama for Empire.
Singer Natalie Cole was laid to rest at Forest Lawn Memorial Park in Glendale, CA. Her parents, sister, and brother are also buried there. Natalie Cole died from idiopathic pulmonary arterial hypertension, which led to heart failure. She was diagnosed with the ailment after receiving a kidney transplant in 2009.
IN MEMORIAM
We bid a fond farewell to:
• Singer Nicholas Caldwell, a co-founding member of the legendary group, The Whispers. Caldwell passed away from congestive heart failure. He was 71.
• Rocker David Bowie, who pioneered Glam Rock, died at age 69. He leaves behind his wife, former supermodel and entrepreneur Iman, and daughter, Alexandria "Lexi" Zahra Jones.
What's The 411 - WHAT'S POPPIN"
"Forbes recently released its Top 30 Under 30 List and to my happiness there are a number of black people on the list!," said Kizzy Cox. The list includes 23-year-old heartthrob John Boyega! Boyega is blazing trails in the new Star Wars film "The Force Awakens", as the first black storm-trooper we've ever seen in a Star Wars film. Boyega, who is British of Nigerian descent has proudly embraced his African origins, in an interview with the NY times he said:
"I'm grounded in who I am, and I am a confident black man. A confident, Nigerian, black, chocolate man. I'm proud of my heritage, and no man can take that away from me."
Also on the list are several black women--can we say #blackgirlmagic??--including 26-year-old Jewel Burks an entrepreneur within a family of entrepreneurs, she co-founded and is CEO of PartPic which helps people find parts they're looking for their electronics or other machinery. Additionally, 28-year-old Nailah Ellis-Brown is founder of Ellis Island Tropical Tea. Incredibly, Brown started by selling her old Jamaican family tea recipe out of the trunk of her car! A silent partner eventually invested $150,000 for a bottling plant in Detroit and now she's selling her tea to Whole Foods and other stores throughout the US! Can we say #Caribbeangirlmagic??
UNDER THE RADAR
JANET JACKSON
Pop star Janet Jackson canceled some of her tour dates due to illness. A rumor spread that Janet had throat cancer, which prompted the singer to issue a statement on twitter to debunk the rumors:
"Remember...believe it when you hear it from my lips, the rumors are untrue. I do not have cancer. I'm recovering. My doctors have approved my concerts as scheduled in Europe, and as I promised, the postponed shows will be rescheduled. Thank you for your prayers and love."
Monique Pressley: Bill Cosby's Attorney
People magazine is reporting that after failing to find sufficient evidence to back a model's claim that she was drugged and sexually assaulted by Bill Cosby at a Playboy Mansion party in 2008, the Los Angeles County District Attorney's Office announced Wednesday that it would not file charges. No matter where you are on the Bill Cosby issue, you must admit Monique Pressley is serving the media up something proper! Just watching the eloquent way she executes her argument, you just want to snap your fingers in a circle. Ms. Pressley, a Howard University Law School graduate, is more than a lawyer; she is a minister and a member of the cut life. I love watching her.
FAB411
Tips for Teeth Whitening
Beauty expert Courtney Rashon gives her recommendations for keeping your teeth bright and white!
A great smile is important. And it's also important to make sure you have white teeth. Here a few ways to keep your teeth white and bright.
Baking soda. Baking soda does not contain fluoride but you can use this along with your regular toothpaste once a day. The baking soda keeps your teeth white
Whitening strips. Whitening strips are amazing for keeping your teeth gleaming. Whitening strips are easy to apply and come with instructions and can brighten up your smile in one week. The strips can be found in local drugstores and supermarkets.
Limit the use of drinking things like coffee and tea. Both can be good for you, but not always so good on your teeth. Heavy smoking and tobacco use can also stain your teeth. Brush regularly after having more than one cup.
Visit the dentist. Regular cleanings will also help to keep your teeth clean, healthy and white. This should be done at least once a year.
And as for cosmetics, teeth whitening using a machine with ultraviolet light and a special gel can brighten you smile in one hour. The results are instant and this can be done every 1 to 2 months.
Amandla Stenberg Comes Out as Bisexual
Outspoken teen actress Amandla Stenberg, famous for her breakout role in the Hunger Games as 'Rue' came out as bisexual on a Teen Vogue snapchat. The 17-year-old said in a series of snaps:
It's a really, really hard thing to be silenced. And it's deeply bruising to fight against your identity and to mold yourself into shapes that you just shouldn't be in," Stenberg said "as someone who identifies as a black, bisexual woman, I've been through it, and its hurts. It's awkward and it's uncomfortable. But then I realized because of Solange [Knowles], and Ava DuVernay, and Willow [smith], and all the black girls watching this right now, that there's absolutely nothing to change." "We cannot be suppressed," the actress continued. "We are meant to express our joy, and our love, and our tears, and be big and bold and definitely not easy to swallow."
El Chapo Captured
El Chapo, a gangster's gangster, has been captured. The notorious Mexican drug kingpin, Joaquin "El Chapo" Guzman, is in the pen!
El Chapo met with actor Sean Penn via a hook-up by actress Kate del Castillo. Can you believe El Chapo was trying to shoot a film- got to give it to El Chapo, this was a real gangster move. Guzman thought his story was worthy of Hollywood. Unfortunately for Guzman aka El Chapo, this was how the Mexican authorities were able to track him down to a house in an upscale neighborhood in a coastal city according to Mexico Attorney General Arely Gomez.
In closing this segment, Onika McLean said, "Sean Penn, I know you came after Lee Daniels, but you better probably watch your back now, because now El Chapo, you gonna be on the chopping block!"
CARIBBEAN COOK-UP:
Trinidadian Soca Artist Fay Ann Lyons Fights for Power Soca
Carnival season is quickly coming upon us! Trinidad's carnival is only 2 weeks and 5 days (but who's counting??) And masqueraders everywhere can't wait to jump and wave their way down the road and across the stage...but some are wondering where is the power Soca they're supposed to be wining to? Because this year's power Soca songs haven't been strong. Fay Ann Lyons, famous Trinidadian Soca artist and 3-time winner of the carnival road march title (the only woman to have ever done so) called out those people who said that basically power Soca was on its way out. Elaborating on her comments in an interview with looptt, Lyons said:
"my next point was that Iwer and Superblue are known for singing power Soca and you telling them that dead and don't bring no power and you telling younger artistes don't do power cause we are not playing it so you already blocking people cause you are telling them there is no market for it. I turned to the crowd and said fight for your artistes, fight for your music and your culture. After I said what I said, I said anybody who disagree(s) that you should not support the art form could kiss my black ass."
FAY ANN is making a great point because at the end of the day, groovy Soca is great it's nice music to groove to: slow wine and chip, but if you're about to cross that stage and get wassy (Trini slang for turn up and get wild) you want a power Soca song to get you there! And if you want to promote cultural unity, you need all the types of Soca music--you can't put down one and uplift the other.
REALITY TV RECAP
RHOA Kandi Burruss and Todd Tucker Name Son Ace

Wells Tucker

There is lots of baby news going around. Real Housewives of Atlanta stars Kandi Burruss and Todd Tucker recently welcomed a baby boy named Ace Wells Tucker. She made the announcement on January 7, after she gave birth the day before. Kandi and Todd were going back and forth about the name but the finally decided on a name that was unique that they both liked.

Interestingly enough, fellow RHOA cast mate, Phaedra Parks showed up at the hospital.
IN THE PIPELINE:
Upcoming Events
The Schomburg Center for research in Black Culture will Premiere the documentary, Black and Cuba on January 26. Tickets are available on Eventbrite.com.
PEPSI has confirmed to the Associated Press, that Beyoncé will perform on the Super Bowl half-time show at Levi's Stadium in Santa Clara, California. Last month, Coldplay announced it would perform at the halftime show. Beyoncé and Coldplay collaborated on the band's new album, A Head Full of Dreams.
R&B LEGEND, Mavis Staples, will release a new album on February 19th entitled, LIVIN ON A HIGH NOTE.
The upcoming Stellar Awards, featuring the best in Gospel Music will take place on February 19th In Las Vegas.
You heard of Patti Pies...now get ready for Patti Cakes. Patti LaBelle will again partner with Walmart for three new additions to her dessert line. In addition to the sweet potato pie, Walmart will add a premium vanilla pound cake and a premium caramel cake.