What's The 411 Episode 87: Prince, Donald Trump, Kerry Washington, and more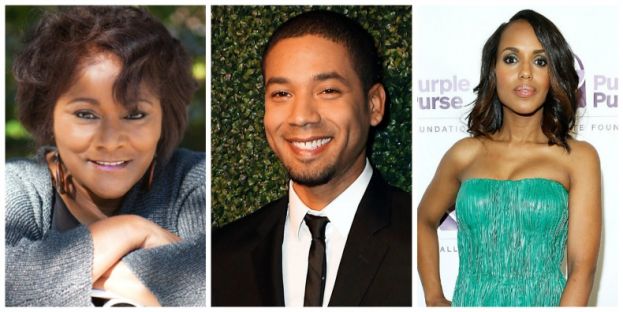 Photo Credit: Vera Moore (Courtesy of Vera Moore); Jussie Smollett (Unknown); Kerry Washington (John Lamparski/WireImage)
Photo left to right: Vera Moore, CEO and President, Vera Moore Cosmetics; actor Jussie Smolett, and actress Kerry Washington
Cosmetics entrepreneur Vera Moore will speak at the Essence Festival; actor Jussie Smollet will return to Empire; Tamar Braxton fired from The Real; actress Blake Lively finds out she's Becky and a whole lot more
What's Poppin' Quick Takes
The Minneapolis Star Tribune is reporting that the iconic pop artist, Prince, may have been dead for hours before he was found unresponsive in an elevator in his Paisley Park home.
Tamar Braxton has been fired from The Real.
The world of media has gained two new Black superstars. Elaine Welteroth has been named Editor-in-Chief of Teen Vogue; Aaliyah Williams is now the Vice President of Digital Content and Production of MACRO, a company started by African-American talent rep Charles King.
Actress Blake Lively stirred some controversy, when she posted a picture of herself on Instagram, posing at a recent gala in a gold gown with the caption "LA face with an Oakland booty."
Actor Jussie Smollett will return to Empire. Smollet posted on Instagram: "Listen 2 my words, I'll see ya'll season 3.
The television network, ABC, announced that Scandal will return for its sixth season in 2017, due to Kerry Washington's pregnancy.
What's Poppin'
Donald Trump is having difficulty raising money
Campaign contributions from some of the Republican Party's major benefactors may be hard to come by for the party's nominee, Donald Trump. Most notable is Stanley Druckenmiller, a New York-based investor who gave big bucks to John Kasich's campaign. Druckenmiller told Reuters that he won't donate saying, "Not sure why anyone would give money to Mr. Trump since he asserts that he is worth $10 billion."
The continuing saga that has become Bill Cosby's life
Bill Cosby's lawyers are again asking the state supreme court to have his criminal sexual-assault case thrown out. The issue is whether a current prosecutor has to live up to the promise made by a former prosecutor to not charge actor/comedian/philanthropist Bill Cosby for the alleged assault. Apparently Bill Cosby used that promise to provide certain testimony in another case and now his words are being used against him. We'll know shortly whether the case will be thrown out.
In-Studio Interview
Cosmetics entrepreneur Vera Moore will speak at Essence Music Festival
Vera Moore, President and CEO, Vera Moore Cosmetics; will be a panelist on the beauty panel at the upcoming Essence Music Festival in July. As we listen in on an impromptu conversation between Vera Moore and What's The 411TV CEO Ruth J. Morrison, we are pulled into Ms. Moore's journey from integrating the Green Acres Mall in Valley Stream, NY, in the early 1980s with a kiosk to selling her brand of cosmetics in 53 stores through Walgreens, the largest drug retailing chain in the United States. The Vera Moore Cosmetics brand can be found nationally at Walgreens in New York City, New Orleans, Las Vegas, and Puerto Rico among others, as well as internationally in Shanghai independently.
Under the Radar
Black-ish Writer Damilare Sonoiki initiates a new comedy based on African immigrant experience
Black-ish writer, Damilare Sonoiki, is creating a brand new comedy, this one about the African experience. It's called African Booty-Scratcher!" Sonoiki, a Nigerian-American named it that after an insult he heard kids using to refer to African kids. I remember hearing it growing up too. He told the Grio:
"The biggest thing I've learned from 'Black-ish,' like the central premise...is that you're taught to give your kids more than you have but in giving them more, what do they lose? The immigrant story is that exact same situation."
New film, Loving is generating Oscar buzz at Cannes Film Festival
From the Cannes Film Festival comes word that Jeff Nichols' film Loving, generated tremendous Oscar buzz. The film is the real life story of the efforts of Richard Loving, a white man, and Mildred Loving, a black woman, to have their marriage deemed legal. In 1958, the couple was arrested in their bedroom for being married. At the time, Virginia law made interracial marriages illegal. The couple had to take their fight all the way to the Supreme Court which rendered a unanimous decision ruling the couple's arrest unlawful and all state prohibitions against interracial marriage.
Additionally, the hubbub is that actress Ruth Negga's performance as Mildred Loving makes her a favorite for Best Actress Oscar.
Upcoming Events
• Actress Niecy Nash is set to join the cast of the upcoming TNT's dramedy, Claws, a dark-comedy revolving around five diverse nail salon employees and organized crime. Claws is currently in production.
• Filmmaker Carl Franklin has signed on to do a film remake of the 1948 William Faulkner novel Intruder in the Dust. The original film was produced in 1949, and the new film is currently in production.
• If all the Fetty-Waps, Drakes, and Nicki Minaj's of the world have got you feening for some Mase, Puff Daddy, and Lil' Kim, your '90s prayers have been answered because The Bad Boy Family Reunion Tour is coming to a city near you! The Lox, 112, Total, Carl Thomas, Mario Winans, and French Montana will also perform on the tour. Brooklyn already got a taste recently when they performed at the Barclay's Center where our own Onika McClean got crunk! The official tour starts on August 25, 2016, in Columbus, Ohio.
• Comedian Wanda Sykes will join fellow comediennes Amy Schumer and Goldie Hawn in a new Fox comedy special, Mother/Daughter. The comedy will air October 21st on FOX television.
In Memoriam
Journalist, Morley Safer, one of the original correspondents of the CBS News Magazine, 60 Minutes, has passed away at age 84. Safer had just retired from CBS a week prior. May he rest in peace.