Congratulations to New York Association of Black Journalists (NYABJ)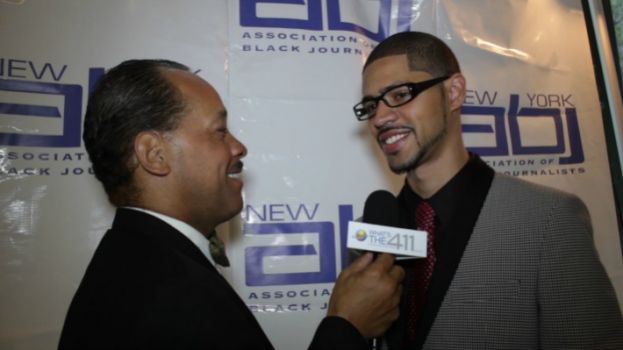 Photo Credit: Alexis Williams/What's The 411 Networks
Michael Feeney, President, NYABJ and a reporter for the New York Daily News
NYABJ Named a Finalist for NABJ Professional Chapter of the Year
The NY Chapter of the Association of Black Journalist, representing the nation's largest media market also had a strong year of membership growth and program development.
Michael Feeney, a reporter with New York Daily News and 2010's NABJ Emerging Journalist of the Year, credits the chapter's networking events as one of the reasons NYABJ's paid memberships has grown to more than 140 members. This includes its hugely successful Late Summer Mixer, at Neely's Barbecue Parlor in Manhattan. The mixers have become such a draw that RSVP is required.
NYABJ remained on the political forefront of the 2012 election season by teaming up with Young Professionals United for Change for a Vice Presidential debate watch party, with remarks from Roland Martin and Keli Goff. Feeney said Actress Lynn Whitfield also attended; and the chapter also hosted a Presidential Election panel, Campaigns through the Lens of the Media on the night before the elections.
NYABJ's signature annual Scholarship & Awards Banquet increased in notoriety and recognition in 2012.
"We honored the work of more than 40 journalists," said Feeney. "The event also garnered widespread media attention because Beyoncé was among the award winners. She thanked NYABJ in a video posted online."
Beyoncé was honored for Essence article "Eat, Play, Love," about how a nine-month break changed her life.
NYABJ also kept true to its purpose of honoring pioneers in journalism and grooming the next generation.
"We also honored WNBC anchor Sue Simmons in a special awards ceremony," Feeney added.
He also praised NYABJ's FIRST TAKE, a free eight-week high school journalism workshop that meets once a week at Brooklyn's Long Island University campus. It trains some 20 students in reporting and producing stories in multimedia formats under the tutelage of NYC's top journalists.
"We know that the workshop is giving city kids something positive to do and it's helping to mold the next wave of journalists. We're so proud of this program and the kids amaze us every year," Feeney continued.