Thought-Provoking Dialogue: Dr. Cornel West and Bob Avakian
Photo Credit: RevCom
Crowd outside Riverside Church awaiting entry for the Dr. Cornel West - Bob Avakian Dialogue on Saturday, November 15, 2014
What If Being Black No Longer Meant Living in a White Supremacist World?
That's one of many questions posed during what was billed as "A historic dialogue between the Revolutionary Christian Cornel West and the Revolutionary Communist Leader Bob Avakian."
Huge Turnout for a Talk Punctuated by Events in Ferguson
Apparently, the prospect of some answers to such questions led people to come out en masse -- creating lines that wrapped around the three corners of The Riverside Church, in Manhattan, on a clear and crisp Saturday, November 15, 2014. They came, filling the Church to capacity – an estimated 1,500 or so -- to hear and see the two men, who would spend over three hours talking about "Revolution and Religion: The Fight for Emancipation and the Role of Religion." Before the "dialogue" started, however, the audience discovered that each man would first speak individually.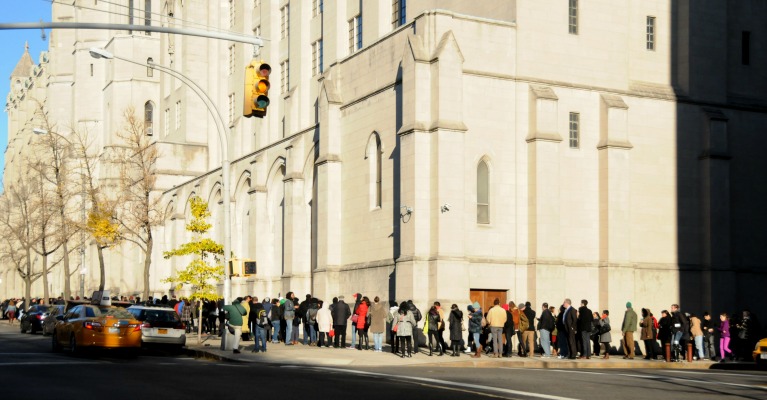 Line wrapped around Riverside Church awaiting to get in to hear the dialogue between Dr. Cornel West and Bob Avakian. Photo Credit: RevCom
Avakian's First Framing Questions
Bob Avakian didn't waste any time before honing in, finding much to dispute in the Bible and with Jesus, Black Liberation Theology, and what he called "the negative example" of the fight for liberation, namely the Jews and their fight for the State of Israel.
He said, "Revenge may seem sweet, but we need to move to a world that's not like that."
Oppression by any group or individual against another is not the world of change.
According to this self-proclaimed Revolutionary Communist, "If people can't change, nothing can change. But, people can and do change." He then asks, "What if being black no longer meant living in a white supremacist world? What if we didn't have to live in a lop-sided world?"
Avakian notes that just as The Beatles' John Lennon sang, "You may say I'm a dreamer," he believes a just world can be a reality. "We need a scientific method and an approach to make this world a reality....To change the system."
Avakian's Other Questions
How to change the system? "We need a revolution." The good news according to Avakian: Our current system is "the basis for revolution." He reminds us that "nobody had heard of Michael Brown, Trayvon Martin..." Interrupting him, several people in the audience began to shout, calling out other names of black and brown men who were killed by police. Several of those sitting in the front pews came from Ferguson, MO, and they among many others stood up, with arms raised, fists clenched, chanting "Hands up. Don't Shoot."
Audience members with clenched fists and hands in the air, reciting names of black men killed by police and reciting "Hands up, Don't shoot." Photo Credit: Revcom
A year ago, Avakian continued, we didn't know about the children coming from Central America. "This is a system that forces people to rise up against it."
What gives Life meaning? Of all the questions, this one may well be Avakian's core question. He urges us to recognize that we must not justify or accept, for example, that Thomas Jefferson owned and enslaved people because he was living in a society which at that time condoned slavery. Instead he reminds us that "plenty of people knew slavery was wrong and protested it. People see what's possible and take a stand." Avakian urges the same approach with the impending indictment of the Ferguson police officer. Saying he's aware that Ferguson churches are organizing prayer meetings, but that "If you're going to pray, pray that a lot of people are out on the street. Pray that we're not going to take it. Police are putting the lives of our youth on the line every day. They are murdering them every day."
Dr. Cornel West's Questions
More than two hours later, it is Cornel West's turn to speak. He talks for about 20 minutes. And, just as Avakian cut to the chase on how he stands against religion and for the scientific method, based on evidence, not faith; West swiftly voices his own stance on religion saying: "I think he's wrong about Jesus. I believe in the cross" borne against the Roman Empire. To acknowledge their fight against injustice in the American Empire, West calls out to actor and longtime activist Harry Belafonte, who is seated in the front pews, as well as Juanita Young, mother of Malcolm Ferguson – who was killed by NYPD in 2000 –and a champion against police brutality, and Carl Dix, among others. Ms. Young and Mr. Dix are members of the Dialogue's Host Committee,* along with 33 other members, including Emmy award-winning actor Ed Asner; Dr. Farah Jasmine Griffin, Columbia University professor, English and African American Studies; Dr. Obery Hendricks, Columbia University Visiting Scholar, Dept. of Religion & IRAAS; and Rev. Stephen Phelps, former Interim Minister The Riverside Church.
West then directs the filled-to-capacity gathering to consider the following four questions:
How does integrity face oppression?
What does honesty do in the face of deception?
What does decency do in the face of insult?
What does virtue do in the face of brute force?
His brief speech reveals that the answer to each of the four questions he posed is the same, a "profound commitment of radical love, for everyday people, for the wretched of the Earth." He notes that "historically, black rage has been the threat to this system"; and predicts that "when black people wake up, everybody will!"
The program then concluded with questions the audience wrote on index cards, which Annie Day, the moderator, directed to Bob Avakian and Cornel West. The program was presented by Revolution Books and The Bob Avakian Institute. For more information, visit www.revcom.us.
*Footnote: "The members of the Host Committee have diverse political and philosophical viewpoints, yet agree that Cornel West and Bob Avakian dialoguing on this topic at this moment will matter and the people throughout society need to know about it." From the Program Bulletin, A Dialogue Between CornelWest and Bob Avakian, Revolution and Religion, 11/15/14