Female entrepreneurs shine at The Beauties and Brains Behind the Brands III
At a chic soiree in Dumbo on Monday, smartly dressed professionals sipped cool cocktails while feasting on crab cakes and delicious desserts to celebrate 25 fly female entrepreneurs.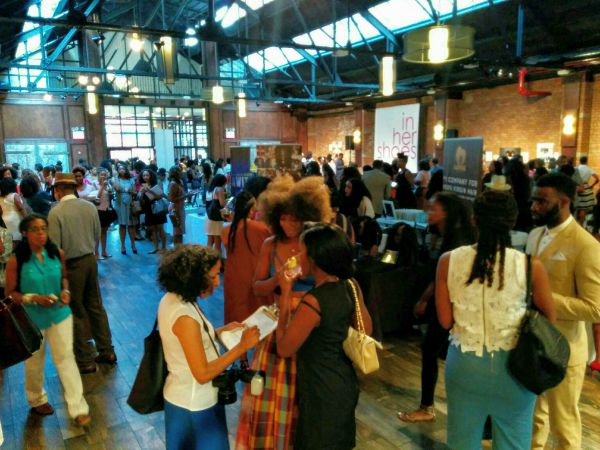 Attendees at the Beauties and Brains Behind the Brands event. Photo Credit: Kizzy Cox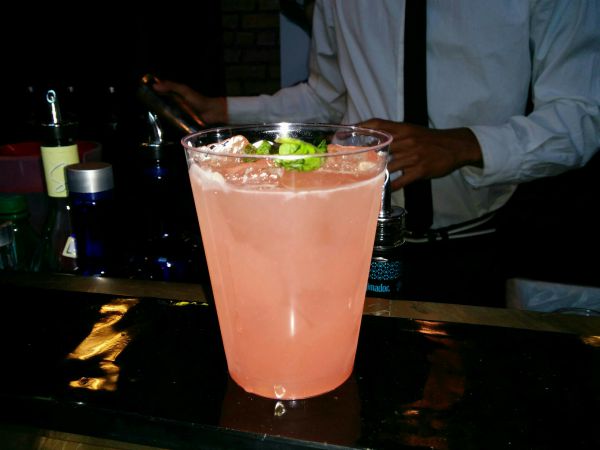 A cool cocktail. Photo Credit: Kizzy Cox
The sold-out event was the brainchild of Renae Bluitt, founder of the In Her Shoes blog, which serves as a kind of inspirational guidebook for women "committed to realizing their dreams." This year marks the 3rd anniversary of The Beauties and Brains Behind the Brands and to commemorate the milestone she brought in a little help from a fly fella—Alzo Slade.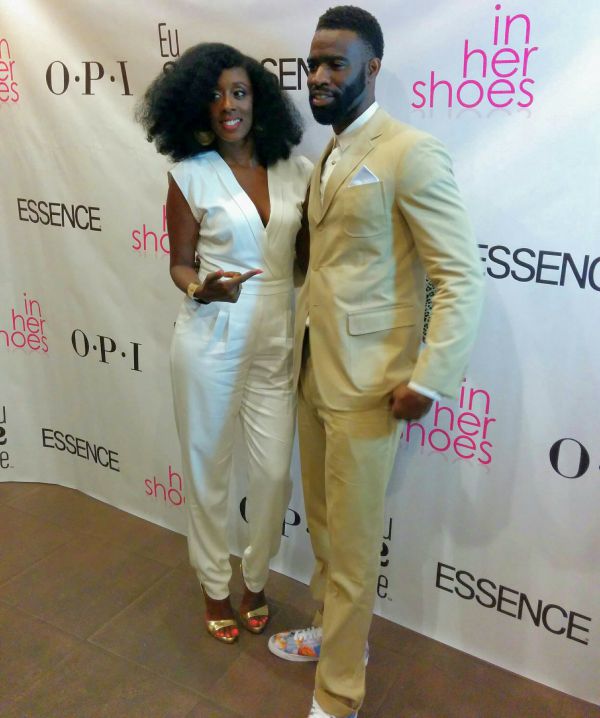 Renae Bluitt and Alzo Slade. Photo Credit: Kizzy Cox
Slade photographed the 25 honorees in their element to help "tell their stories through images," said Ms. Bluitt.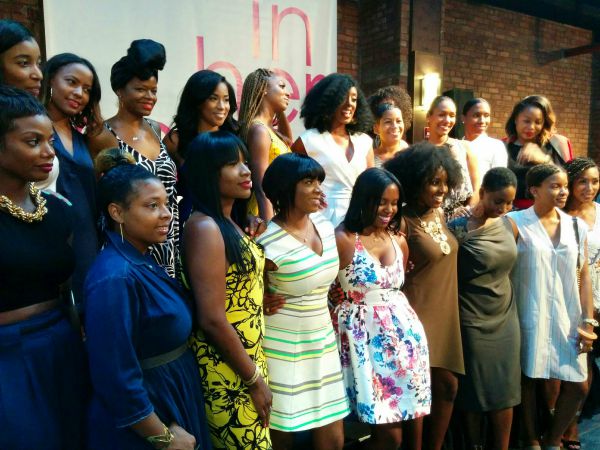 The Beauties and Brains Behind the Brands honorees. Photo Credit: Kizzy Cox
The result was an eclectic mix of photos taken everywhere from stylish salons to NYC streets. She also partnered with Essence who gave attendees the opportunity to win their new monthly BeautyBox which will include 5 hand-picked luxury products delivered straight to winners' homes starting in October 2015.
It would hardly be a business networking event though without an opportunity for entrepreneurs to do what they do best—grind! So entrepreneurs had the opportunity to share their bounty at the marketplace where shoppers could buy a variety of goods including natural hair care products, clothes and...if they happened to overspend, advice on how to keep their finances in check with Tonya Rapley, author of My Fab Finance Financial Planner. Ms. Rapley enjoyed a steady stream of people coming to her table for advice and networking, "I've connected with so many women."
Meanwhile, attendees like Astrid Malone, drew inspiration from seeing dozens of successful black women living their dreams, "It's nice to see women of color, African-Americans come together and be inspiring for one another." Ms. Malone, a fashion and lifestyle writer, and an aspiring business owner, was also impressed by the down to earth vibe of the gathering. No one is "pretentious, they're just mingling," she said.
One of those unpretentious ladies was Miriam Milord, owner of BCake NY, located in Prospect Heights. Ms. Milord had attended one of Bluitt's previous parties and was so impressed with the positive energy she wanted to be a part of it. She asked Ms. Bluitt if she could provide the desserts for the next Beauties and Brains event...and the partnership proved to be a sweet one! Guests were treated to delectable cake lollipops, mini-cupcakes, and cookies while Ms. Milord networked with other entrepreneurs. She believed the support women business owners received there was crucial, "We're not supported enough so we need to support each other."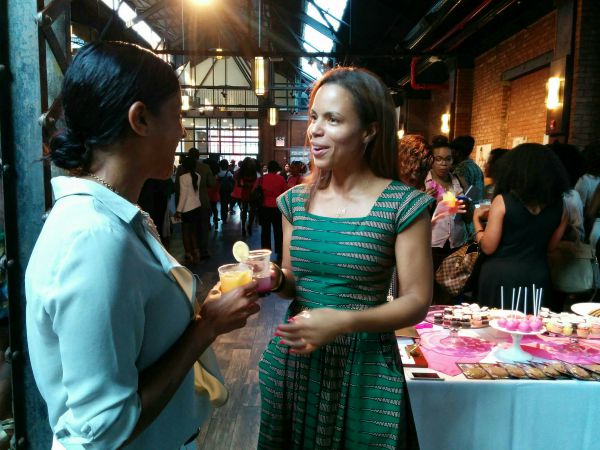 Miriam Milord, Owner, BCake NY, talking with an entrepreneur attending the Beauties and Brains Behind the Brands event. Photo Credit: Kizzy Cox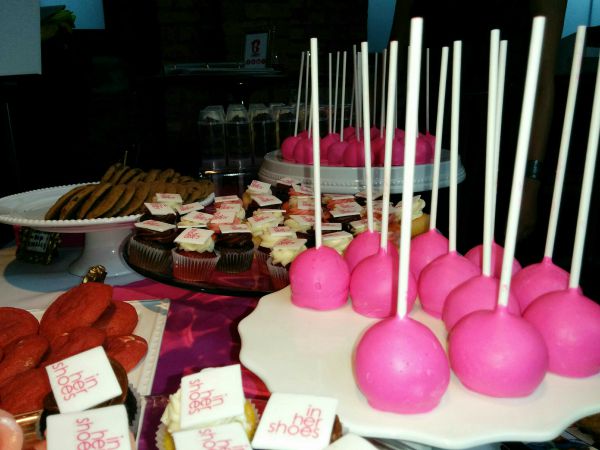 Cake Lollipops, mini-cupcakes, and other delectables from Ms. Milord's BCake NY. Photo Credit: Kizzy Cox
Knowledge is also an important part of that support, which was shared freely in a 5-person panel featuring Ms. Bluitt; Mr. Slade; Miko Branch, co-founder of Ms. Jessie's; Tai Beauchamp, host of TLC's Dare to Wear and Pamela Edwards Christiani, beauty and style director for Essence. One piece of advice that resonated quite strongly with the audience came from Mr. Slade who stressed the importance of hard work over appearances in making your dreams a reality, "If you're in it for the shine or the Instagram post, you won't make it." He encouraged people to stop talking about what they're going to do and just do it.
But for all the networking opportunities, inspiration and recognition Beauties and Brains Behind the Brands provided, for some business owners, like Fifi Bell-Clanton, co-owner of "The Crabby Shack" (which catered the event) the classy evening served an even more basic function. Laughing, she said, "It's so nice to get dressed up and not smell like crab."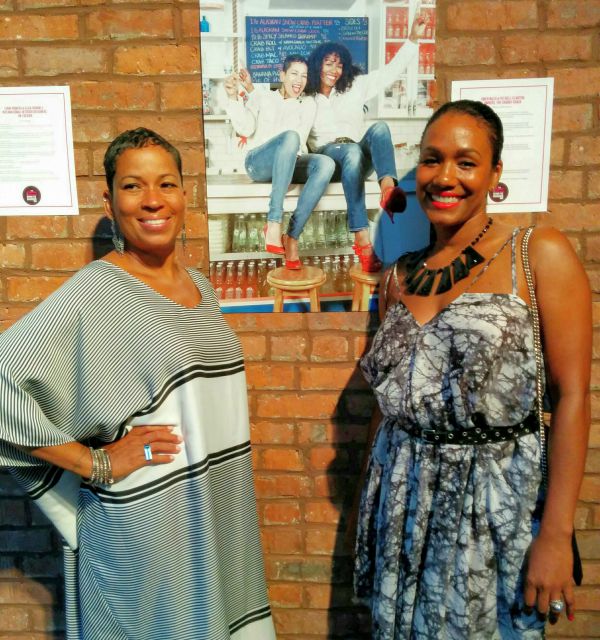 Gwendolyn Niles (left) and FiFi Bell-Clanton co-owners of Crabby Shack. Photo Credit: Kizzy Cox