New Yorkers Hold Vigil for Trayvon Martin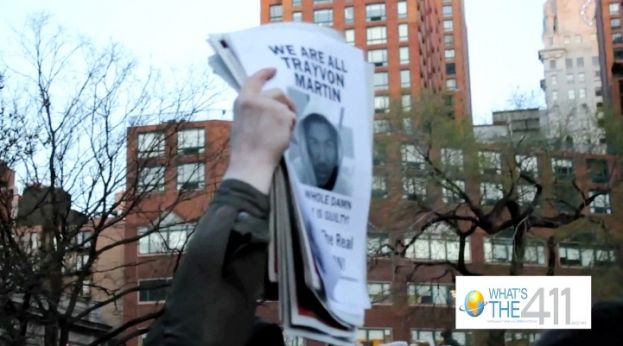 Photo Credit: Kizzy Cox/What's The 411 Networks
New Yorkers holding a vigil for Trayvon Martin in Union Square Park in Manhattan
VIDEO: New Yorkers add their voices to call for justice for Trayvon Martin and his family
Hundreds of people gathered for a vigil for Trayvon Martin at Union Square in New York City on Monday, March 26, 2012. Several people spoke to What's The 411 about his tragic death and their outrage over the slow wheels of justice.
Trayvon Martin, 17, died February 26, 2012, after neighborhood watch volunteer, George Zimmerman, shot and killed the unarmed teen.
Zimmerman called the Sanford Police Department police at the non-emergency number at approximately 7:00 p.m., on February 26, 2012, to report what he considered to be suspicious behavior by Martin, which he described as "just walking around looking about" in the rain. The police dispatcher tape recorded him saying, "This guy looks like he is up to no good or he is on drugs or something."
The dispatcher recommended that he not take any action, and informed him that police were on the way. Zimmerman reported that Martin had started running. The dispatcher asked him if he was following Martin and he affirmed that he was. The dispatcher informed him that this was not necessary, saying, "We don't need you to do that." Zimmerman affirmed "OK" and said he would meet the police by the mailboxes. However, before hanging up he said "Actually, could you have him call me, and I'll tell him where I'm at?"
Although, Trayvon Martin was unarmed and only carrying a can of Arizona Iced Tea and bag of skittles, Zimmerman claimed he felt threatened by the unarmed Martin and cited Florida's "Stand Your Ground" law as a self-defense claim.
Zimmerman has still not been arrested for the shooting.