Supermodel Emme on the Red Carpet at Children's Defense Fund Annual Gala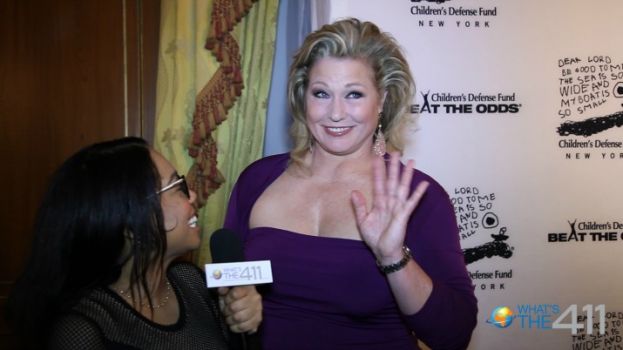 Photo Credit: Alexis Williams/What's The 411 Networks
Supermodel Emme on the red carpet at the Children's Defense Fund's annual gala
Supermodel Emme believes that our children need as much support as possible from the adults around them; our children are our future and they need to be supported
What's The 411TV's Courtney Rashon caught up with supermodel Emme on the red carpet at the Children's Defense Fund-New York (CDF-NY) annual Beat the Odds® Gala—an event that celebrates local students who have overcome exceptional adversities along their path to success—at The Pierre in New York City. Emme served as a presenter at the event.
In addition to recognizing five Beat the Odds® scholars, the event honored renowned stage and screen actors LaTanya Richardson Jackson and Samuel L. Jackson, and business leader Roger W. Ferguson, Jr., President & CEO of TIAA-CREF, for their longstanding commitment to CDF's Leave No Child Behind® mission.
This year's Beat the Odds® scholars include Aesron Jeremiah, 17, (William Maxwell High School in Brownsville), Elham Chowdhury, 17, (Bronx High School of Science in Norwood), Ruben Suazo, 17, (Leadership and Public Service High School in East Flatbush), Sashagale Moore, 18, (Queens Preparatory Academy in Jamaica), and Shirleyka Hector, 17, (International High School at Lafayette in Canarsie).
Marian Wright Edelman is the president and founder of the Children's Defense Fund.
The Children's Defense Fund Leave No Child Behind® mission is to ensure every child a Healthy Start, a Head Start, a Fair Start, a Safe Start and a Moral Start in life and successful passage to adulthood with the help of caring families and communities. CDF provides a strong, effective and independent voice for all the children of America who cannot vote, lobby or speak for themselves. We pay particular attention to the needs of poor children, children of color and those with disabilities. CDF educates the nation about the needs of children and encourages preventive investments before they get sick, drop out of school, get into trouble or suffer family breakdown. CDF began in 1973 and is a private, nonprofit organization supported by individual donations, foundation, corporate and government grants.