2018 What's The 411TV Internship Opportunities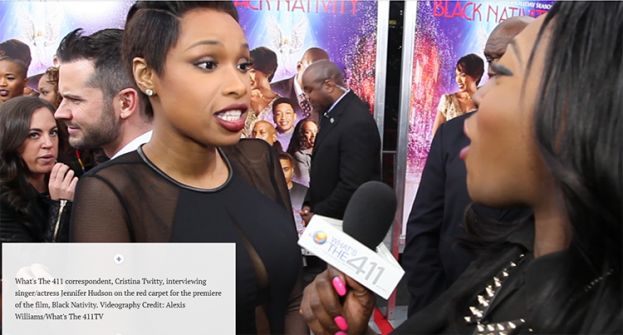 Photo Credit: Alexis Williams/What's The 411 Networks
What's The 411 correspondent, and Brooklyn College graduate, Cristina Twitty (right) interviewing singer/actress Jennifer Hudson on the red carpet for the premiere of Black Nativity.
OPEN CALL: 2018 Student Internship Opportunities: On-Air Video, Journalism, Communications, P.R., Event Management, Social Media
What's The 411TV, a Brooklyn-based emerging media company, is currently recruiting interns to assist our team in the Spring and Summer 2018 semesters in the following areas:
• TV Social Media Integration
• Sports Reporting including the WNBA
• Event Planning and Management
• Writers for articles/news briefs, TV scripts, and newsletters
• Digital Reporting
• DJ/Announcing/Podcasting
• Communications, public relations, and marketing
What's The 411TV owns a unique and growing portfolio of lifestyle brands that provide original content in categories including entertainment, sports, fashion, beauty, wellness, film, music, TV, business, and tech. All of our TV studio work is produced downtown Brooklyn in the state-of-the-art facilities at BRIC Arts Media House. You can view our work on our websites www.whatsthe411.com and www.411SportsTV.com. You can also listen to What's The 411 podcast episodes on Apple Podcasts, Google Play Music, Stitcher, and TuneIn.
Our Requirements:
• We prefer interns that can receive academic credit for the internship, but it's not required.
• Schedules are prepared around the intern's academic requirements and schedule.
• Strong writing, speaking, and creative thinking skills are essential.
• Knowledge of new digital media (social media, blogs, web technology, etc.), and you must have a social media account
• The candidates will be self-starters who pay attention to detail, have great dispositions, the ability to work independently; good listeners, and for on-camera work, must have a great personality
Ideally, candidates are juniors or seniors in college or recent graduates, who are able to commit to the internship for the Spring 2018 and/or Summer 2018 semester.
Please send all resumes, cover letters, and a link to your reel (if you have one) to This email address is being protected from spambots. You need JavaScript enabled to view it. with the subject line "INTERNSHIP" and the area of interest, e.g., INTERNSHIP – Writer.
If you have questions, send them to This email address is being protected from spambots. You need JavaScript enabled to view it. with "INTERN INQUIRY" in the subject line.
To learn more about What's The 411TV, please visit What's The 411TV's About Us page.
These are UNPAID internships.
Last modified onWednesday, 24 January 2018 11:00