Praises for Jay Z on the Red Carpet at the Barclays Center Opening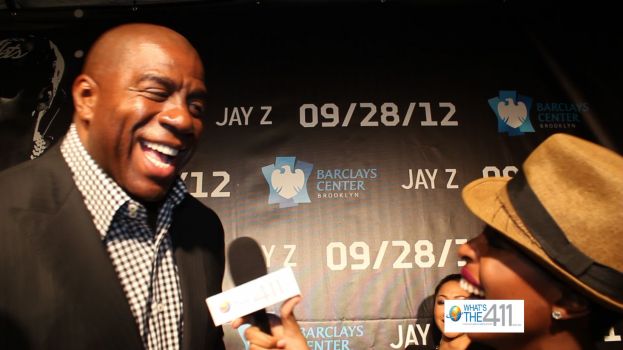 Photo Credit: Alexis Williams/What's The 411 Networks
Earvin "Magic" Johnson talking with Crystal Lynn on the red carpet at the opening of the Barclays Center
What's The 411 TV on the red carpet on the occasion of rapper and entrepreneur Jay Z's inaugural concert at the opening of the Barclays Center in Brooklyn
Earvin "Magic" Johnson, CEO Magic Johnson Enterprises and former NBA Allstar, stepped on the red carpet to thunderous applause and shout-outs. Speaking to What's The 411 TV's correspondent, Crystal L. Henderson, Magic shared his good feelings about the opening of the Barclays Center. Magic stated that the Barclays Center is not only good for Brooklyn, it is good for New York City. Magic also compared the impending rivalry between the Brooklyn Nets and the NY Knicks to the Los Angeles Lakers and the L.A. Clippers.
The best line of the night came from Magic when Crystal asked him what's his favorite Jay-Z verse. Magic gave that great laugh and smile that he is famous for and said, "...no, no, hey, I love him; I think Jay Z's the best. I would do him a disservice by trying to rap; that's not what I do, I own things, that's what I do."
The celebrity-packed red carpet also included: Attorney Star Jones; Tyson Chandler (Center-NY Knicks); Joe Johnson (Guard- Brooklyn Nets); FOX 5 News Anchor Rosanna Scotto; Brooklyn Nets Jerry Stackhouse (Forward/Guard); Brooklyn Nets Head Coach Avery Johnson; NY Giants Wide Receiver Victor "Salsa" Cruz, Deron Williams (Guard- Brooklyn Nets); WABC-TV News Anchor Lori Stokes and John Calipari, Head Coach University of Kentucky Men's Basketball.
New York City community leaders in attendance were Bertha Lewis, President of The Black Institute and former CEO of ACORN; and Geoffrey Davis, Founder and President of the James E. Davis Stop The Violence Foundation.
All used enthusiastic accolades to describe Jay Z's business acumen.
Watch Video of Barclays Center Opening
Last modified onSaturday, 18 March 2017 17:30