Caribbean LGBT Masqueraders Make a Vivid Display at NYC Pride Parade 2018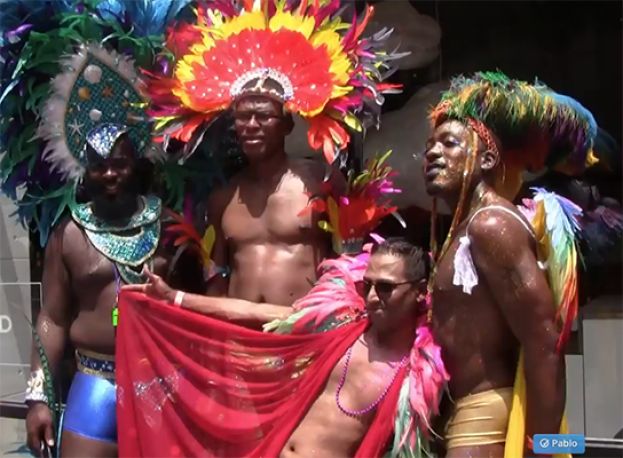 Photo Credit: Kizzy Cox
Caribbean members of the LGBT community having a great time at the NYC Gay Pride Parade 2018
WATCH VIDEO: NYC Gay Pride Parade revelers weigh in on a Trinidadian judge's ruling that colonial-era laws banning gay sex are unconstitutional
The streets of lower Manhattan were turned into a beautiful mosaic of Caribbean flags, dazzling costumes and rainbow flags at NYC's pride parade this year.

While the Caribbean is famous for its diverse population and laid-back vibe, the region isn't that accepting of the gay (LGBT) community due to the strong influence of religion and culture. The prevailing attitude is that LGBT relationships should remain out of sight, if not banned completely. But revelers at this year's pride parade affirmed their sexuality and their Caribbean heritage as they wined to hype soca beats in full carnival costume or waved their country's flag.
Caribbean Equality Project's Prideful Masqueraders Showcasing Traditional Indian Wear. Photo Credit: Marcus W. Persaud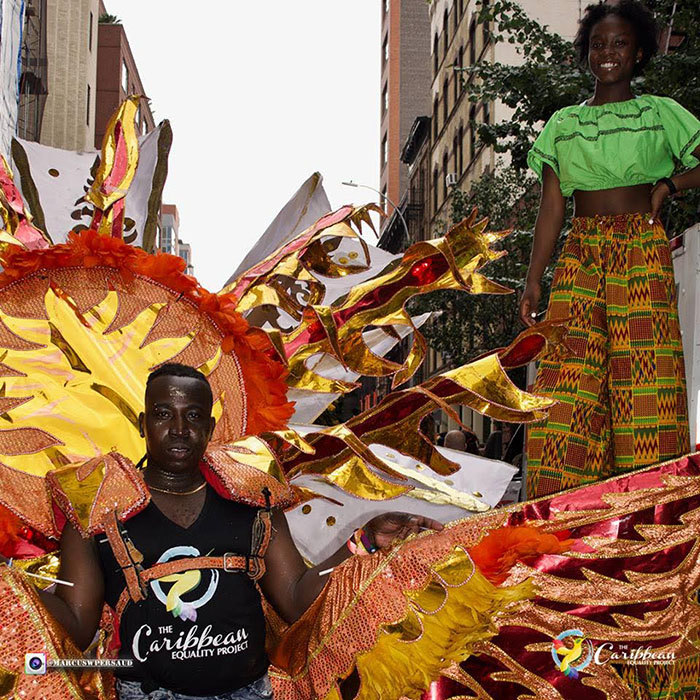 Caribbean Equality Project's Members. Photo Credit: Marcus W. Persaud
Hundreds of marchers came together under the banner of the Caribbean Equality Project, an NYC non-profit founded by Mohamed Amin to provide support, advocacy and asylum assistance for the LGBT community in the Caribbean diaspora. After Mr. Amin and his siblings were victims of a hate crime in 2013 in Queens, he realized LGBT people of Caribbean descent often persecuted by their communities or rejected by their families because of their sexuality, needed a safe space to be—so he created one.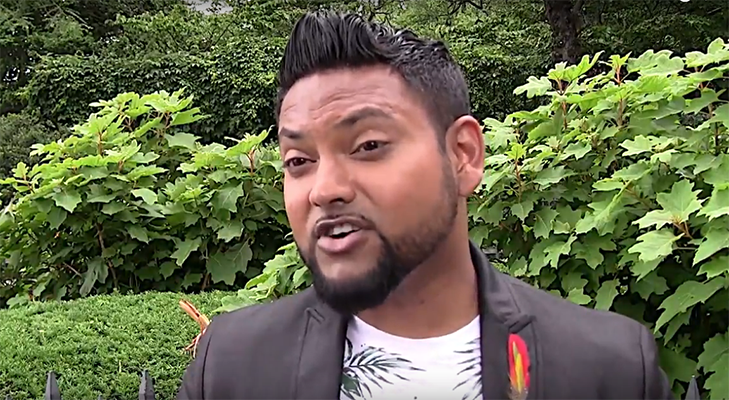 Mohamed Q. Amin, a human rights activist and founder of the Caribbean Equality Project.
And because homophobia continues to be an issue in the Caribbean, the organization's asylum work has become even more vital. "The need is there for queer Caribbeans who don't have anywhere else to go in New York and who also don't know how to access the different agencies in New York City that will be a support to them," said Mr. Amin.
Anoop H. Pandohie (Trinidadian) and Partner, Mohamed Q. Amin (Guyanese), Founder of Caribbean Equality Project. Photo Credit: Marcus W. Persaud
But the recent historic ruling in Trinidad and Tobago to decriminalize homosexuality may eventually allow for greater acceptance of LGBT people in the Caribbean community. A high court judge ruled on April 12, 2018, that the Caribbean nation's colonial-era law banning gay sex is unconstitutional, a development that parade goers welcomed.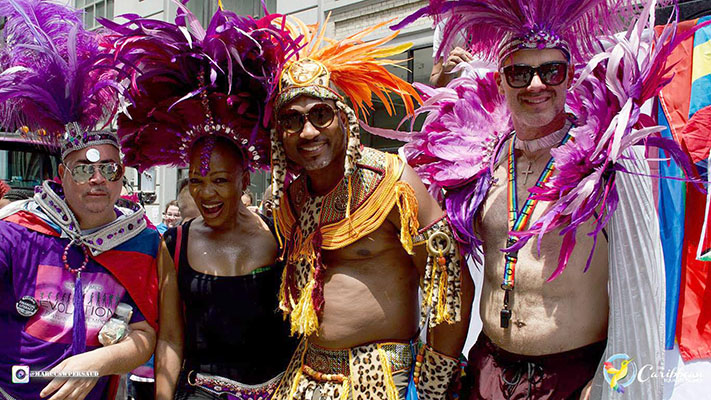 Caribbean Equality Project's Prideful Masqueraders. Photo Credit: Marcus W. Persaud
"I think what it does, it sets a precedent for all the other Caribbean countries you know like this is sort of like a step forward to say, ok here's one country and if we're all united under Caricom whether legally…or culturally under our history or whatever, we will move forward. So it really provides a sense of hope that we're pushing the boundaries and just accepting people you know what I'm saying, so I'm living for it. I'm so happy," said Kadeem Robinson who's originally from Jamaica.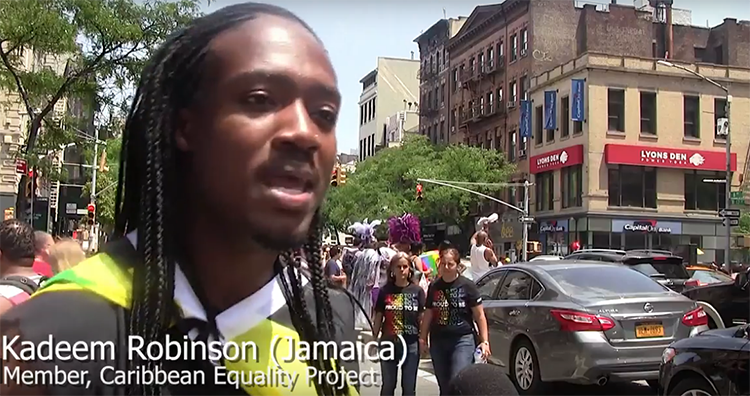 The final ruling on whether to remove the colonial-era laws from the books or simply change them is scheduled to happen later in July. But in the meantime, people like Monica Persaud, showed up at the parade with her grandchildren (one just 3 years old) to support her son, Marcus Persaud who works with Caribbean Equality Project.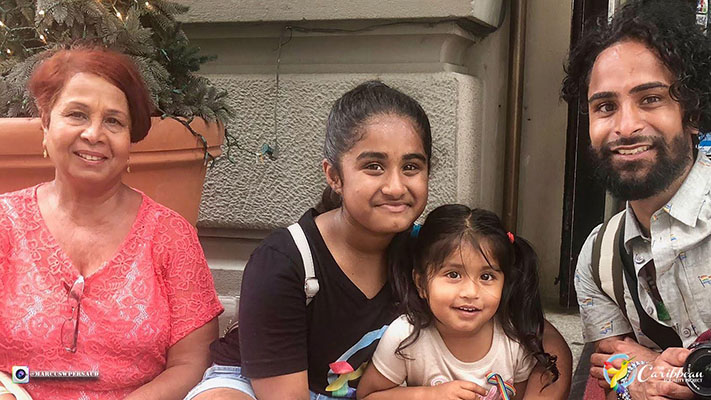 Ms. Persaud and her family. Photo Credit: Marcus W. Persaud
Ms. Persaud is well aware of the prohibitions against homosexuality in scriptures and the pressure to reject her child's sexuality but had this message to share "You never know what that child could become so you need to show them love and focus on God who created them and you need to get that started from young—just show love," she said.
NOTE: On August 10, 2016, a judge in Belize ruled that a law criminalizing same-sex intimacy is unconstitutional.
Kizzy Cox, a reporter, and co-host of What's The 411 loves to travel. When she's not tracking down news stories, you can find her far away from home learning about new cultures.