What's The 411TV Partners with AALBC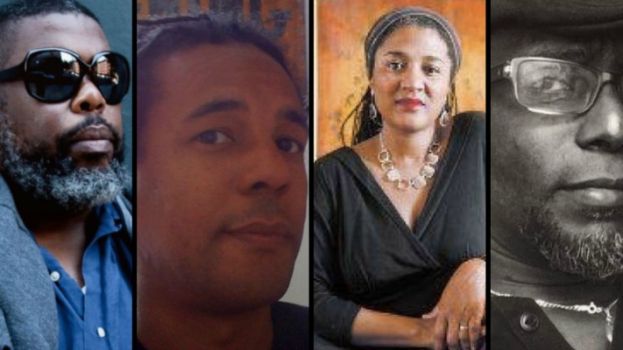 Photo source: Twitter
2017 Pulitzer Prize winners (from left to right): Hilton Als, Colson Whitehead, Lynn Nottage, and Tyehimba Jess
Celebrating African-American 2017 Pulitzer Prize Winners
Troy Johnson, President, African-American Literature Book Club (AALBC.com), one of the largest repositories of Black books, literature, book news, authors, partnered with What's The 411TV to bring information about Black books, authors, events, and book news from the United States and globally, to the What's The 411TV audience via its media properties of television, websites, podcasts, social media, and online video distribution platforms. The relationship will be an opportunity to be a platform for sharing stories, celebrating, and uplifting the Black community via Black Literature.
In this first segment, Johnson recognizes this year's African-American Pulitzer Prize winners. The Pulitzer Prize dates back to 1917. Gwendolyn Brooks was the first African-American to win a Pulitzer Prize, which she won in 1950 for her book of poems, Annie Allen. James Alan McPherson became the second African-American to win a Pulitzer Prize and the first to win for fiction, when he won in 1978, for Elbow Room.
Fast-forward to this year (2017), four African-American writers won Pulitzer Prizes in their respective areas. Tyehimba Jess, who teaches at the College of Staten Island (CUNY), won the Pulitzer Prize in poetry for Olio, a collection of his sonnets, songs, and narratives that highlight the lives of "unrecorded African-American performers" before the Civil War up to World War I.
Colson Whitehead won the Pulitzer Prize for fiction for his 2016 novel, The Underground Railroad. The novel tells the story of a teenage heroine, Cora, in 1850s Georgia who tries to escape a cotton plantation and start her journey toward freedom. Whitehead also won a 2016 National Book Award for fiction for The Underground Railroad.
Lynn Nottage joins the ranks of writers like August Wilson, who have won multiple Pulitzer Prizes. Nottage won the Pulitzer Prize for drama for her Broadway show Sweat. According to Playbill, Nottage is the first female playwright to win the Pulitzer Prize twice. On the day of this taping, Nottage also received a Tony nomination for Sweat, which is her Broadway debut.
Hilton Als, a theater critic for the New Yorker, won a Pulitzer Prize in criticism. Als' work often focuses on the intersections of theater, race, identity, sexuality and class in the United States.