THE LAST KING: A Battle Between God and the Edenites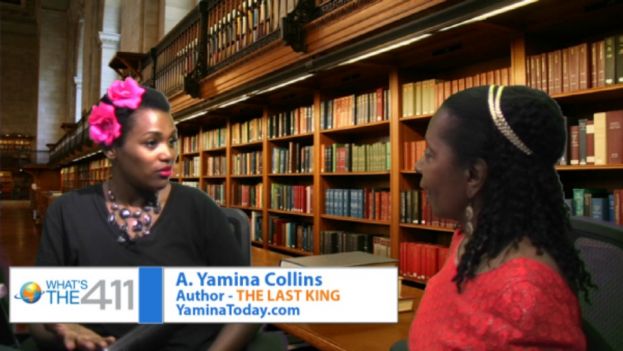 Photo Credit: What's The 411 Networks
A. Yamina Collins, author of THE LAST KING, talking with What's The 411's book editor, Luvon Roberson
What happens when you eat from the Tree of Life and gain immortality?
Well, God gets very, very angry with you!
And, that's just the beginning of the battle between God and the Edenites in a new book, THE LAST KING, by first-time novelist, A. Yamina Collins.
WATCH VIDEO: Interview with THE LAST KING author, A. Yamina Collins
Caught between God and the Edenites is Emmy, a 6-foot tall African American woman and unsuspecting mortal, living in -- of all places -- Lake George, New York. Then, there's Gilead, an Edenite --standing 6'7' and gorgeous by anyone's definition. He's a doctor, lives in a mansion, plays polo, and has a panther as a pet. Another thing: he's lived for at least three centuries. And, his brother Markus is white. The two men, however, happen to share the same height and profession. Well, sort of.
Emmy, Gilead, and Markus – along with a few dozen other characters – make up the world created by author A. Yamina Collins.
Yamina Collins recently stopped by What's The 411's studio home, BRIC Arts Media House, to chat with me about her new sci-fi romance novel, THE LAST KING, an e-book, being released in monthly episodes/volumes. Ms. Collins not only imagines a uniquely populated world in upstate New York of unaware mortals co-existing with exotic animals and sword-wielding immortals who ride in chariots, but she also has imagined who these characters might be – if they came to life in our world -- in the "real" world.
She shared with me that she imagines "Emmy" as Lupita Nyong'o, the Academy Award-winning actress who starred in 12 Years a Slave. Instead of Ms. Nyong'o's signature close-crop natural, as "Emmy," the actress sports jazz musician and vocalist Esperanza Spalding's trademark looser-curl natural.
"Gilead" in her view might be played by two-time Academy Award-winner, actor, producer, and director Denzel Washington, but about 30 years ago, when he starred in the TV hit drama St. Elsewhere (1982-1988).
"Markus," the brother of "Gilead," could be Chris Hemsworth, the Australian actor we cheered for in blockbuster movies like Thor and The Avengers.
SPOILER ALERT: Ms. Collins also let me know that she will introduce many other characters in upcoming episodes of THE LAST KING, and that, in addition to Markus, Gilead has 19 other family members! She reveals a few other spoilers in our interview. So, LAST KING fans, watch and listen!
THE LAST KING is in top-100 Amazon best-sellers list in Fantasy, Sci Fi, Women's Fiction Literature, and Christian Women's Literature. More than 15,000 monthly visitors stop by Yamina's blog, yaminatoday.com, to check in on the latest episode/volume of THE LAST KING. You can also find her on Twitter @yaminatoday.
A graduate of New York University, Ms. Collins resides in New York City and is the author of THE BLUEBERRY MILLER FILES, a quirky collection of short stories.
P.S. After the interview, Ms. Collins and I, along with What's The 411 producer, Ruth J. Morrison, celebrated the author's 8/23 birthday. Reaching in the large birthday bag, filled with objects based on themes in THE LAST KING, Ms. Collins immediately placed the fur-trimmed sparkling pink tiara on her head. She then pulled out the plastic sword, brandishing it in true swashbuckling style. I think Emmy and Gilead would've been proud!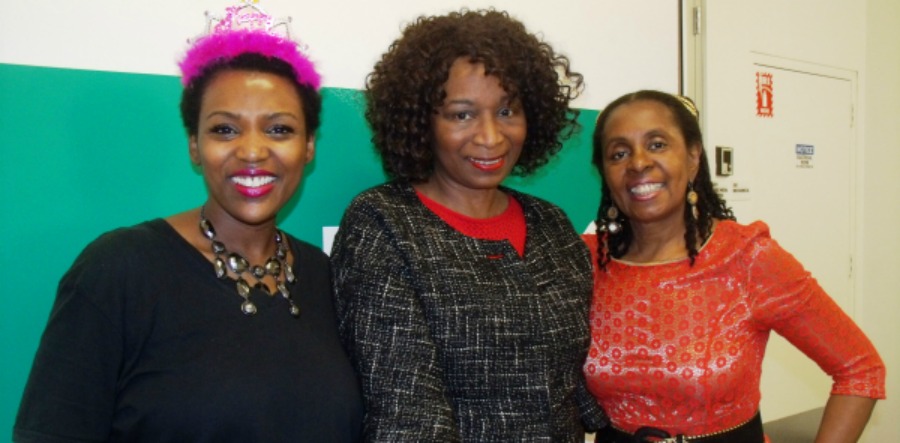 From Left to Right: A. Yamina Collins, Author, THE LAST KING; Ruth J. Morrison, CEO, What's The 411 Networks; Luvon Roberson, Book Editor, What's The 411