Coe Booth: Writing Books is in her DNA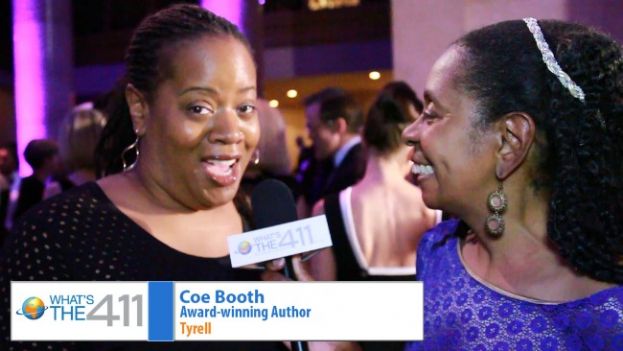 Photo Credit: Kenneth Dixon/What's The 411 Networks
Award-winning author Coe Booth talking with What's The 411TV Book Editor, Luvon Roberson
Award-winning young adult author, Coe Booth, is a fiction writer. She was also a judge for the 2009 National Book Awards.
At the 2014 National Book Awards, What's The 411TV book editor, Luvon Roberson, chatted with Coe Booth about her experience as a judge for the National Book Awards and her various books for young adults. Growing up in Bronx, New York, Coe Booth knew she wanted to be a writer in the second grade. Although she prepared to be a writer, her path to full time writer wasn't a direct one. After college, Coe Booth took other safe jobs, however, these jobs did not feed her soul. With four books in her repertoire, this award-winning writer is now a full time writer and she teaches part time at Bronx Community College.
As a judge for the National Book Awards, Coe Booth had to read 285 books within six months. Serious about her responsibilities as a judge for the National Book Awards, she even took a suitcase filled with books on a vacation cruise.
Check out the video: Award-winning writer, Coe Booth
Coe Booth calls herself a "Bronx girl" who, even in the face of discouraging words, dreamed of becoming a writer. She is the author of KINDA LIKE BROTHERS and two novels for young adults: KENDRA, published in 2008, and TYRELL, published in 2006. She received the Los Angeles Times Book Prize for Young Adult Fiction for TYRELL in 2006, which The New York Times Book Review called "gritty and gripping." Ms. Booth is a 2009 National Book Awards Young People's Literature Judge.
To learn more about Coe Booth, visit: www.coebooth.com