The 2015 National Book Awards Finalists Announced; Most Ethnically Diverse Class of Finalists Ever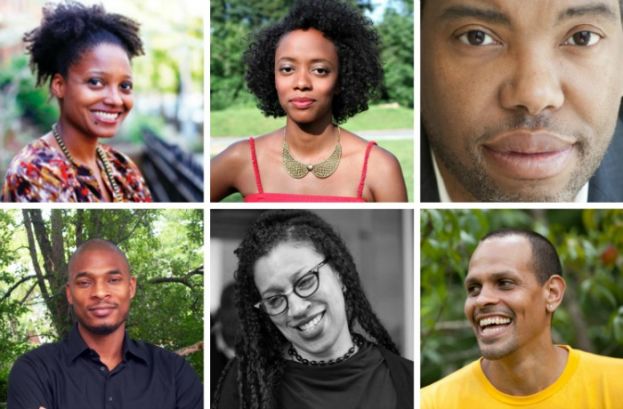 Photo Credits: various see below article.
Photo: Clockwise from top left: Tracy K. Smith; Angela Flournoy; Ta-Nehisi Coates; Ross Gay; Robin Coste Lewis; and Terrance Hayes
Angela Flournoy, Ta-Nehisi Coates, Tracy K. Smith, Robin Coste Lewis, Terrance Hayes, Ross Gay, and Ada Limon are among the 2015 National Book Awards Finalists
After months of reading through hundreds of books, the National Book Foundation released this morning its book reviewers' short list of 20 authors who comprise the finalists for the upcoming National Book Awards.
This is the most ethnically diverse class of authors to reach the National Book Awards Finals in its 65-year history.
The 2015 National Book Award finalists are:
Fiction
Karen E. Bender, Refund
Angela Flournoy, The Turner House
Lauren Groff, Fates and Furies
Adam Johnson, Fortune Smiles
Hanya Yanagihara, A Little Life
Nonfiction
Ta-Nehisi Coates, Between the World and Me
Sally Mann, Hold Still
Sy Montgomery, The Soul of an Octopus
Carla Power, If the Oceans Were Ink: An Unlikely Friendship and a Journey to the Heart of the Quran
Tracy K. Smith, Ordinary Light
Poetry
Ross Gay, Catalog of Unabashed Gratitude
Terrance Hayes, How to Be Drawn
Robin Coste Lewis, Voyage of the Sable Venus
Ada Limón, Bright Dead Things
Patrick Phillips, Elegy for a Broken Machine
Young People's Literature
Ali Benjamin, The Thing About Jellyfish
Laura Ruby, Bone Gap
Steve Sheinkin, Most Dangerous: Daniel Ellsberg and the Secret History of the Vietnam War
Neal Shusterman, Challenger Deep
Noelle Stevenson, Nimona
The book community is talking about this class of National Book Awards finalists. Excitement is in the air. One poster on Twitter likened today's National Book Awards finalists announcement to "Christmas."
Diversity doesn't happen in a vacuum. The National Book Foundation in opening its doors to include more diverse judges makes us all the richer for it.
The National Book Awards ceremony will be held in New York City on November 18. Winners in each category will receive a bronze sculpture and $10,000.
Congratulations to all of the 2015 National Book Awards Finalists.
Photo Credits:
Angela Flournoy
Twitter
Ta-Nehisi Coates
Nina Subin/Random House
Tracy K. Smith
TheAlchemistKitchen.blogspot.com
Ross Gay
Zach Hetrick
Terrance Hayes
Literary-Arts.org
Robin Coste Lewis
Twitter