Author Sighting: Julie Dash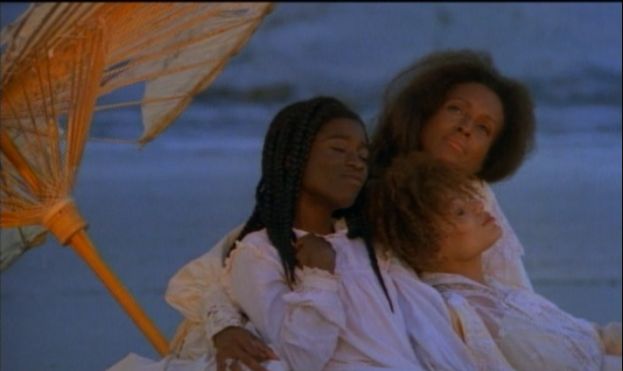 Photo Credit: Julie Dash/Daughters of the Dust
Scene from the critically-acclaimed film, DAUGHTERS OF THE DUST, by award-winning screenwriter/director, Julie Dash
Harlem screening of Julie Dash's Daughters of the Dust and preview of her new film on food griot, Vertamae Smart-Grosvenor
As March, Women's History Month comes to a close, I'm reminded that stories of women's struggles and achievements cannot be contained – or explored -- in 31 days. Happily, we can experience this month as a tribute to women, guiding us to actively seek women's stories and contributions throughout the year. Indeed, I began this month with a tribute to Julie Dash and a screening of her lyrical film about a Gullah family, DAUGHTERS OF THE DUST, held at MIST Harlem/My Images Studio and Madiba Harlem.
A Sighting: Julie Dash in the audience at MIST Harlem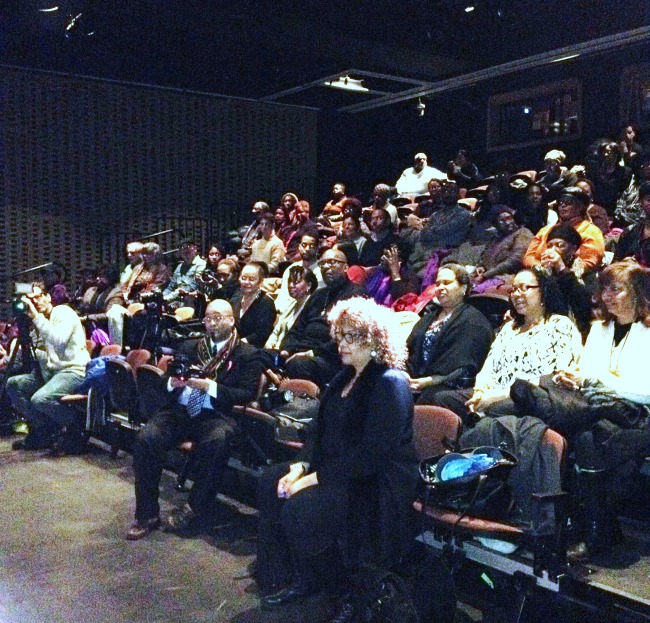 Award-winning filmmaker Julie Dash sitting in the front row in the studio at MIST Harlem. Photo Credit: Luvon Roberson/What's The 411 Networks
Many of us braved the wintry March night and were rewarded: We were also treated to a preview of Dash's new film THE TRAVEL NOTES OF A GEECHIE GIRL, about the life and works of food anthropologist/griot Vertamae Grosvenor, who wrote the acclaimed cookbook and memoir, Cooking Vibrations or Travel Notes of a Geechie Girl. Smart-Grosvenor was born and raised in the same South Carolina Low Country depicted in DAUGHTERS OF THE DUST and spoke Gullah.
Watch Video of Vertamae Grosvenor
Following the screening, Julie Dash and New School Media Studies professor Michelle Materre discussed the history of the film. Dash, who grew up in Queens, New York City, spoke about her parents' Geechie heritage, how she and her family visited relatives in the Low Country during the summer, and the many ways in which being a "Geechie" was mocked when she was growing up. Dash then took questions from individuals in the standing-room-only MIST theatre. Dash also graciously granted me an interview, which her production crew filmed.
Another Sighting: Julie Dash on-stage and in-conversation

Award-winning filmmaker Julie Dash (Right) being interviewed by Professor Michelle Materre, New School Media Studies professor
Gorgeous, Vibrant Images Framed in DAUGHTERS OF THE DUST
Dash's award-winning film for cinematography at the Sundance Film Festival in 1992, tells the story of three generations of Gullah women in the Peazant family at the turn of the 20th century who choose either to migrate North (the mainland) or remain on St. Helena Island, South Carolina. DAUGHTERS OF THE DUST is told through the eyes of women and the voice of the narrator, Unborn Child, a girl. Renowned for its innovative use of song and language (the characters speak Gullah) as well as its visually arresting, lush imagery of black women, nature, food, and African Ancestors, the film was selected for preservation by the Library of Congress in the US National Film Registry, in 2004.
Although DAUGHTERS OF THE DUST was made in 1991, it is just as fresh and powerfully moving today as when I first saw it. As I watched the film this time, I was aware of how Dash and cinematographer/photographer Arthur Jaffe framed nuances of color, movement, hair textures, and ways of being that I had missed before. Yet, today, at least one reality remains: I have never seen such striking images of black women. That remains constant.
The film features Cora Lee Day, Alva Rogers, Barbara-O, Trula Hoosier, Vertamae Grosvenor, and Kaycee Moore; and was filmed in South Carolina, on Saint Helena Island. In addition to the film, Dash wrote two related books: Daughters of the Dust: The Making of an African-American Woman's Film (1992), which includes the screenplay; and Daughters of the Dust: A Novel (1997), which chronicles the family's events 20 years after the film's timeline.
Julie Dash's DAUGHTERS OF THE DUST helped me see how one screenwriter-director and author explores women's stories and captures women's images that flow over generations and, like water, sustains and delights us year after year. Despite the bitter cold early-March winds I endured to and from MIST theatre that evening, mine was a magical Gullah experience in Harlem.
Born in New York City, Julie Dash is a filmmaker, music video and commercial director, author and website creator. Dash's film studies began in Harlem in 1969, but eventually led her to the American Film Institute and UCLA, where she made The Diary of an African Nun (1977), based on a short story by Alice Walker, which won a student award from the Directors Guild of America. Dash's critically acclaimed short film Illusions (1982) later won the Jury Prize for Best Film of the Decade awarded by the Black Filmmakers Foundation.
Dash's first feature — Daughters of the Dust (1991) — was the first film by an African American woman to receive a general theatrical release in the United States; the Library of Congress named it to the National Film Registry in 2004. Dash returned to the film's characters and their Gullah milieu in her novel of the same title, published in 1999.
Dash received an M.F.A from UCLA in 1985.
CLOSING LINES: Snippets & Quotes
The New York Times review of the novel, DAUGHTERS OF THE DUST, which takes place in the 1920s:
"while the film focuses on the Peazant family at the point of their migration from an isolated island community of formerly enslaved Africans, the novel carries the story to the next generation--to the 1920s and Amelia Varnes, a student of anthropology who returns from New York to observe Gullah society for an ethnographic study and, in the process, rediscovers her matrilineal heritage. Inspired by Zora Neale Hurston, Dash elegantly combines sultry descriptions with evocations of oral tradition, cultural theory with a sincere reverence for Gullah esthetics and experience." –
The New York Times Book Review, Casey King (12/14/1997)