Author Selma Jackson Wins Phillis Wheatley Book Award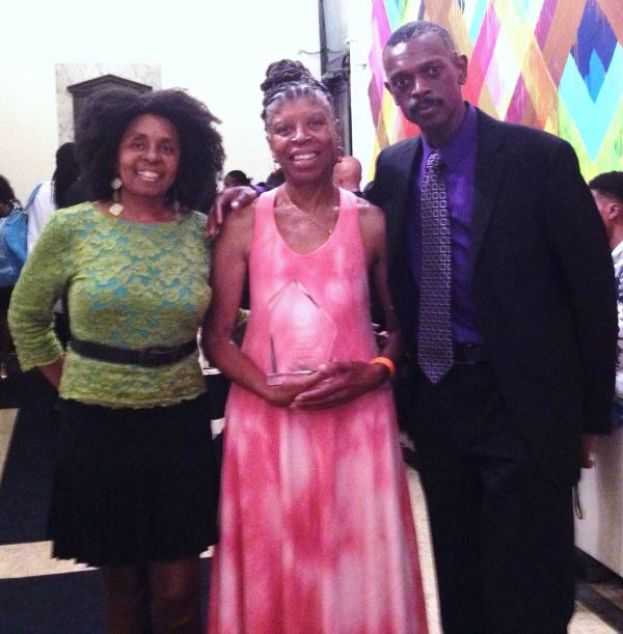 Photo Credit: Luvon Roberson
Award-winning author Selma Jackson holding her Phillis Wheatley Book Award for Young Readers surrounded by What's The 411 Book Editor Luvon Roberson (left) and Ansel Pitcairn, Illustrator of Granny's Helper.
A First-Time and Self-Published Author, Selma Jackson, Wins Phillis Wheatley Book Award in Young Readers Category
Each year, the Harlem Book Fair launches with its signature event, the Phillis Wheatley Book Awards. This year brings special validation to self-published authors, and should give many would-be authors inspiration because Selma Jackson, a first-time and self-published author took home the Phillis Wheatley Book Award for her beautifully written book, Granny's Helper. At What's The 411, we are especially proud of the recognition of Ms. Jackson's work because weeks before the Wheatley Book Awards, I had the opportunity to sit down with Selma Jackson for an exclusive interview.
In Granny's Helper, a book written for ages 7-11-year-olds, little Selma is unaware of the barriers her parents face because of discrimination against African-Americans, the precautions they are forced to take, and the creative strategies they devise to subvert the discrimination against themselves and their children. These bittersweet memories, of course, are held by the author, who recalls them as such only now, as she looks back through adult eyes at her childhood.
Granny's Helper tells Jackson's story of growing up in the 1950s by focusing on her grandmother's visits from the South every summer to stay with her family in New York City. This, of course, is the reverse of most summer visits in African-American families. It is during these visits that Little Selma learns many life lessons from her blind grandmother about helping others; how to read, write, and ask questions; and overcoming adversity.