Poets Claudia Rankine & Robert Hass on Everyday Violence & Trauma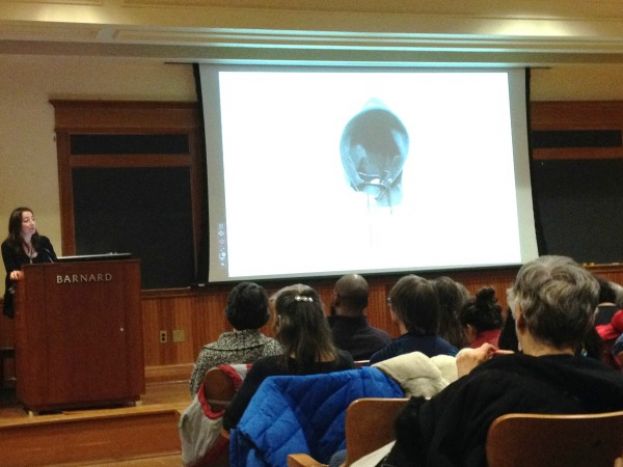 Photo Credit: Luvon Roberson
Saskia Hamilton, Director, Women Poets at Barnard opening a session of Writers at Barnard featuring poets Claudia Rankine and Robert Hass
Provoking Justice: When Your Neighbor Calls the Cops. When Your Father Gives Your Mother a Drug. Two Samplings of Their Poetry
On this last day of April: National Poetry Month, I'm forced to sort out my response to a reading held by two provocative poets at Barnard College, in February, two months ago.
I arrive early – to get a good seat in Held Lecture Hall at Barnard College. Acclaimed poets Claudia Rankine and Robert Hass will be reading before an audience of students, faculty, local community residents, academics, poets, and anyone else, as part of the Writers at Barnard series, which is open to the public. The space fills rather quickly, soon swelling to a full house.
I could point out that the introductions delivered -- to the series by Saskia Hamilton, Director, Women Poets at Barnard, and to the poets by Christopher Baswell, professor of English, and Mary Gordon, best-selling author of four novels and professor of English and Writing -- are key to framing my high expectations of the evening. And, referring to Robert Hass in her opening remarks, Rankine says, "He's the one who taught me to think on the page."
Yet, as thoughtful as these are, I am unprepared for the eruptive force of these two poets' reading of their works. They provoke. They disturb. They trouble the waters of injustice.
A confession: I often find poetry inaccessible and must be nudged – if not pushed– to discover it. I needed no such prod once Rankine and Hass begin to read samplings of their poems. Perhaps it is their voices, the rhythm, cadence, the pitch. But, just as with the evening's introductions, while their voices are quite exceptional in these ways, that alone cannot account for my response. Instead, I think it was their picking at the everyday realities of violence and trauma like one picks at a scab or the broken strings of a guitar.
As they read, certainly their voices and words washed over me as only poetic voices can. But it is to their truths I surrendered.
Closing Lines...
When Your Neighbor Calls the Cops.
Two works from the sampling read by the poets that evening are especially powerful and disruptive. Each poet draws from real-life experience in both pieces.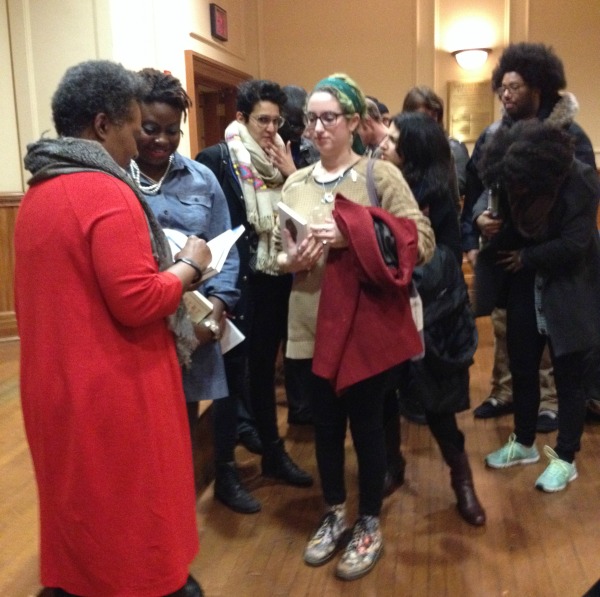 Claudia Rankine signing copies of CITIZEN: An American Lyric at the Writers at Barnard Series. Photo Credit: Luvon Roberson
Listen to this interview in which Rankine reads from the piece, included in her latest book, CITIZEN: AN AMERICAN LYRIC and which begins with such foreboding:
"August 18, 2014
You and your partner go to see the film The House We Live In. You ask a friend to pick up your child from school. On your way home your phone rings. Your neighbor tells you he is standing at his window watching a menacing black guy casing both your homes. The guy is walking back and forth talking to himself and seems disturbed.
You tell your neighbor that your friend, whom he has met, is babysitting. He says, no, it's not him. He's met your friend and this isn't that nice young man. Anyway, he wants you to know, he's called the police."
Listen to Rankine's interview:
When Your Father Gives Your Mother a Drug.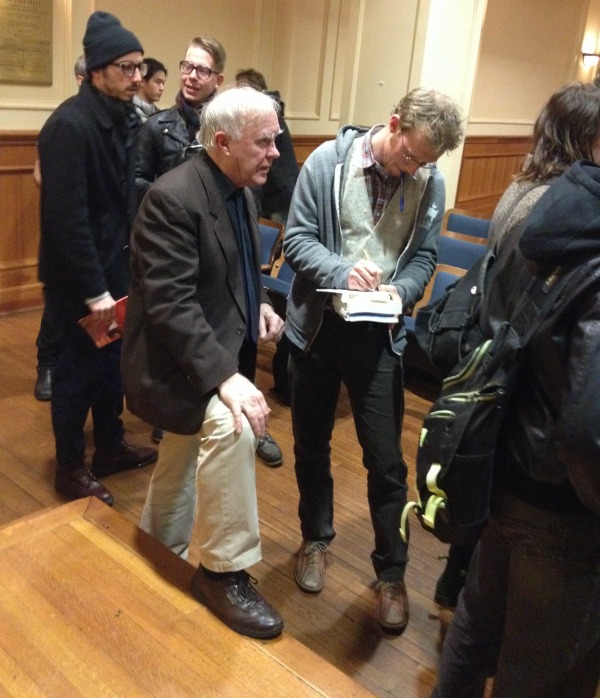 Robert Hass, professor, poet, and author, signing copies of his work at the Writers at Barnard series
Hass pulls away the covers in his family, laying bare the deadly dynamics of roles in his poem, The World As Will and Presentation, among the collection, Time and Materials. Poems 1997-2005. The poem's opening lines are wrenching:
"When I was a child my father every morning –
Some mornings, for a time, when I was ten or so,
My father gave my mother a drug called antabuse.
It makes you sick if you drink alcohol.
They were little yellow pills. He ground them
In a glass, dissolved them in water, handed her
The glass and watched her closely while she drank.
It was the late nineteen forties, a time,
A social world, in which the men got up
And went to work, leaving the women with the children.
His wink at me was a nineteen-forties wink."
Listen to Hass's reading: