African Voices Presents The Reel Sisters of the Diaspora Film Festival Now in its 16th Year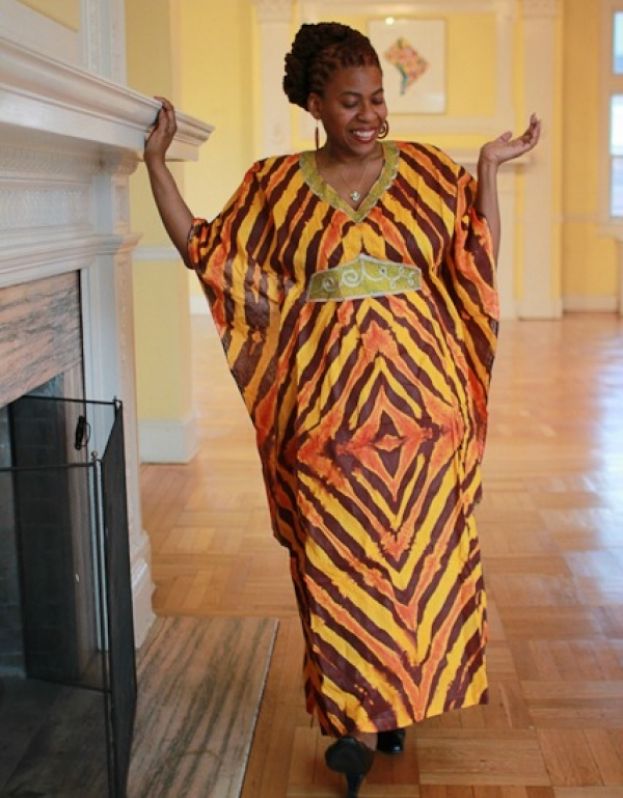 Photo Credit: Unknown
Carolyn A. Butts, Founder, Executive Director, and Publisher, African Voices Magazine; and Founder, Reel Sisters of the Diaspora Film Festival and Lecture Series
On the weekend of October 12-13, the Reel Sisters of the Diaspora Film Festival and Lecture Series celebrated its 16th year at Kumble Theatre in Long Island University. The festival featured various forms of entertainment including 20 films and documentaries, music, and comedy. The festival provided a great atmosphere of culture and creativity among those who were participating, as well as attending.
On Saturday, there were several films and documentaries shown and the featured film "Free Angela and All Political Prisoners" by Shola Lynch. The film told the mystery behind historical figure Angela Davis, who went from being a philosophy professor at the University of California to being FBI's most wanted in the 1960s. Convicted on three counts consisting of murder, conspiracy, she became a controversial political icon and Lynch captured her journey through the fight to clear her name. Lynch expressed her feelings towards taking on this project stating.
"After I finished making the Shirley Chisholm film, people were asking me what I was going to do next. I said the last thing I'm doing is another film about a woman of color. As being a woman of color I do not want to be pigeonholed. Somehow Angela Davis story kept pricking at me. I kept seeing images of her, someone handed me a book and so here I am again." Audience members had great reaction to film, one member excitedly expressing "I was aware of who Angela Davis was but it was a broader picture of her life. This film was a more intimate look at who she was".
This eight-year-in-the-making-production is now creating Oscar buzz.
Another featured film was Audre Lorde: The Berlin Years. This film captured the last few years of the influential African-American lesbian poet. In the 1980s and early 1990s, Lorde resided in West Berlin. She represented the Afro-German movement and played the role of a mentor. Her daughter Elizabeth Lorde-Rollins was very proud of the turnout. Watching her mother's life through the lens of director Dagmar Schultz's camera gave her a feel like no other.
"This film was made with such love and respect. There is nothing like Audre Lorde: the Berlin Years, it is a statement about a piece of my mother's life," she stated.
Sunday, the festival continued with more films and documentaries. The final event for the night was an award ceremony honoring filmmakers and special awards going to Lynch for Free Angela and Issa Rae for The Mis-Adventures of Awkward Black Girl. Mistress of ceremonies was Abiola Abrams. There was also a musical performance by the talented Tamar-kalil on guitar and Juliette Jones on the violin and a comedy stand-up by the very funny MK Lewis. Winners of the awards were What About Us by Deatra Harris, Asa: A Beautiful Girl by Aimiende Negbenebor Sela, El Camino by Raquel Tresvant and Peter Monahan, Sahasi Chori by Erin Galey, and Salty Dogs Blues by Al Santana and Denise Belen Santiago.
Raquel and Peter were in great shock when they won an award because as stated by Raquel, "You make movies for yourself, you never think to be acknowledged for it so this is the cherry on top".
Special guests at the film were supporters of Reel Sisters, New York City Councilman of the 45th District Jumanne Williams and newly elected New York City councilwoman of the 35th District Laurie A. Cumbo. Williams and Cumbo presented awards to filmmakers and gave their input on the festival. Laurie mentioning that it was a way to "validate, recognize, and celebrate women of the African Diaspora in filmmaking and media. The work is important."
She also stated, "I've been coming to their events since the inception. So this is real exciting for me. The 15th anniversary last year was incredible, and it is really exciting to see the energy grow, and continue on top of such a great legacy. Carolyn Butts is truly dynamic in terms of providing a venue, a vehicle, and a space for African American women and women of the Diaspora to present work that would not be normally seen on television or traditional mainstream media. So it is a great opportunity to be here."
Councilman Williams being the only male on stage expressed how much Reel Sisters meant to him due to it being a part of the arts that he supports completely.
After the ceremony, everyone was invited to have food and drinks in the lobby. The atmosphere was very cultural and inspiring with all of the power felt in the room. It was a great thing to be a part of it and see everyone conversing with one another and enjoying themselves.
Outside of the Festival
Although the festival was for films, there was more than that occurring outside the doors of the theatre. There were exhibition platforms such as the Uchiyami brand, Motown on Broadway, and Beadguiling Jewelry for customers to purchase and enjoy. The Uchiyami brand is a lifestyle brand that sells apparel for men, women, and children, and accessories created earlier this year in May. Making its debut at the Reel Sisters Festival, the team is hoping to accomplish much success in the future. Beadguiling Jewelry by Ife is also hoping for more success in the future, falling in love with beads and making her own creations of bracelets, necklaces, and earrings, since 2006.
What's Real About Reel Sisters
Reel Sisters was founded by Carolyn A. Butts in 1991. It was originated to give women of color the opportunity to participate in filmmaking. Considering the scarcity of African American women in the industry, Butts provided a platform in which they could display their work to the public.
"I was doing a short film on a poetry movement and I found that when I was trying to get that film in the universe that there was no one who was really receptive to the images that we had there. I found out there were less than one percent of films directed by African-American women." she expressed.
This was the starting point of the development of Reel Sisters.
Although it is mostly about women, Reel Sisters does cater to the men as well.
On this topic, Butts explained that "we have films that are co-written by men so we're not totally excluding them. We understand that men have an important role to play so we want to have space for them too."
Rhonda Haynes, curator for Reel Sisters Festival for four years, expressed her thoughts about the festival.
"I feel real good that Reel Sisters Festival is still around after 16 years and is doing an incredible work that they do for young Black women filmmakers from around the world."
Catching up with Haynes, she also expressed how global the festival has become through the filmmakers and the films themselves. Reel Sisters has given the opportunity to women filmmakers from all around the world and this year's Festival featured films from Asia, India, and of course, Africa.
One of the judges of the films shown at the festival Rachel Johnson also expressed her views of Reel Sisters and her role in the process stating that "The Reel Sisters Festival is a wonderful platform for women of color and for audiences looking for new content and bridge the connection with different filmmakers. It is a gift that keeps on giving. I'm honored to be able to help judge some of the films and have the opportunity to give back."
The 2013 committee included Carolyn A. Butts, Founder/Festival Director; Rhonda Haynes, Film Festival Curator; Patrice Bradshaw, Founding member/Lecture Series Director; Pearl Bowser, Festival Advisor; Pittershawn Palmer, Film Festival Coordinator; Michael Fequiere, Production Manager; Maitefa Angaza, Associate Programming Manager; Nazalima Durham, Education Coordinator; Maat Kesa, Education Coordinator; and Charlene Brown, Volunteer Coordinator.
Latest from Anisha Robertson