Samba Gadjigo Remembers Ousmane Sembène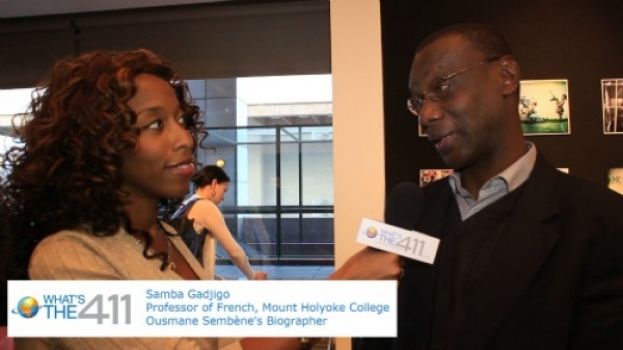 Photo Credit: Alexis Williams/What's The 411 Networks
Kizzy Cox chatting with Samba Gadjigo, Professor of French at Mount Holyoke College, regarding Ousmane Sembène
WATCH VIDEO INTERVIEW WITH SAMBA GADJIGO

What's The 411's Kizzy Cox chats with Samba Gadjigo, Professor of French at Mount Holyoke College and Ousmane Sembène's biographer, at the 20th Anniversary of the New York African Film Festival (NYAFF).
Gadjigo reflects on Sembène's influence on his life and African Cinema.
The Film Society of Lincoln Center (FSLC) and African Film Festival, Inc. (AFF) teamed up once again for the 20th New York African Film Festival (NYAFF), presented under the banner theme LOOKING BACK, LOOKING FORWARD: 20 YEARS OF THE NEW YORK AFRICAN FILM FESTIVAL.
This year's lineup will pay homage to master Senegalese director Ousmane Sembène, the Father of African Cinema.
Opening Night includes a screening of Guelwaar, Sembène's powerful and politically charged 1990s film that cemented his reputation as the Father of African Cinema and opened the very first NYAFF—and the first generation of African filmmakers, while passing the baton to a new generation of African visual storytellers.
Some of the VIPS in attendance were: NYAFF Founder Mahen Bonetti; African Filmmakers Abderrahmane Sissako (Life On Earth and October) and Frances Bodomo (Boneshaker); and the legendary dancer, choreographer, actress, and mentor, Carmen de Lavallade.