Bishop TD Jakes Says BLACK NATIVITY Great for Whole Family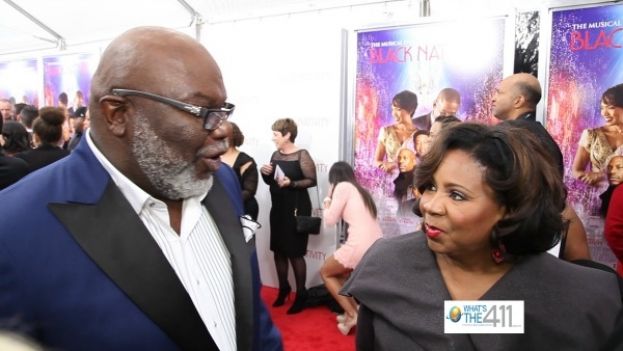 Photo Credit: Alexis Williams/What's The 411 Networks
Bishop T.D. Jakes and his wife, Serita chatting on the red carpet at Black Nativity New York Premiere
Bishop T.D. Jakes, and his wife, Serita on the red carpet at the BLACK NATIVITY New York Premiere at the Apollo Theater in New York City
Bishop Jakes Discusses the Significance of BLACK NATIVITY
The couple has produced several movies, so is there a difference between BLACK NATIVITY and the others.
"Huge difference," said Bishop Jakes. "When you consider Jumping the Broom, and Sparkle, Woman Thou Art Loosed and some of the things we have done, none of our movies have ever been alike and this is true to form. We've never done a musical before; we've never done a movie that really focuses on the family of a pastor before, ironically. And, so this is an opportunity for us to do something that shows the humanity of the pastor and the struggle of the family, in general, in a way that I think that people can come out and find out hey my family doesn't have to be perfect to be able to enjoy this film and maybe I can use something to get back together again and hook it up between the people I love."
So what made Bishop Jakes get on board to be an executive producer of BLACK NATIVITY?
"Well, first of all, it's a pastor's family why would I not jump on board with that? And then it's a great opportunity from the standpoint of the tremendous cast that we have and I love to do things that you can bring the whole family to and not have to cover up the kids' eyes. And, I think during the holidays when so many people wrestle with depression to do something that's uplifting and rejuvenating that doesn't show this picture perfect family and make people feel like if you don't have it all together you can't enjoy the holidays, it's a great way to reach that audience."
BLACK NATIVITY is a holiday musical drama, so what is Bishop Jakes' favorite Christmas song?
"Well, Silent Night is an all-time favorite, you can't really have Christmas without it," he replied. "And, for me personally, Come O Ye Faithful is a great song. In the movie though, the song, Be Grateful is absolutely amazing. It's incredible. Jennifer Hudson rocks it."
Upcoming Projects from Bishop Jakes
So what upcoming projects does Bishop Jakes have that we should be on the lookout for?
Bishop Jakes always has something going on. However, he has a book coming out in Spring 2014 called, INSTINCT. It will hopefully show people that if you listen to your instincts you can perhaps tie into your Divine purpose and be far more effective in business, in your career, and in your personal life, basically, the book INSTINCT will teach people about the power of instincts.
Go see BLACK NATIVITY, it's for the whole family and especially for young people to see themselves on screen.
BLACK NATIVITY also stars: Angela Bassett, Forest Whitaker, Tyrese Gibson, Jacob Latimore, Mary J. Blige, Nasir Jones aka Nas, Jennifer Hudson, Gale Gibson, Luke James.