Movie Review: A United Kingdom Combines Race, Love, and Politics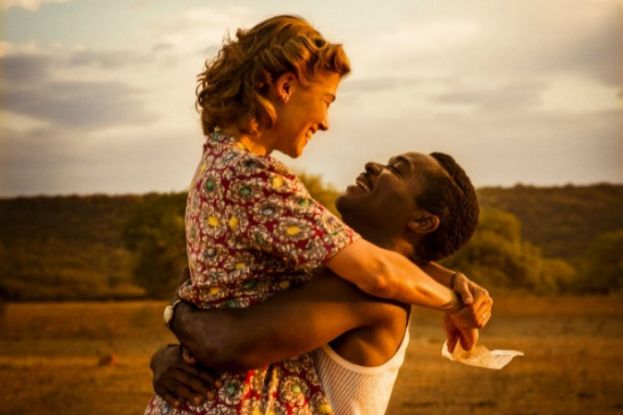 Photo courtesy of Fox Searchlight
Actor, David Oyelowo, lifts and embraces actress Rosamund Pike, in the movie, A United Kingdom.
A United Kingdom
merges the credibility of a true story with romance and international intrigue
In 1947, a young man meets a young woman at a social event. They talk and dance and enjoy each other's company. He asks her out again. She accepts. Once more, they have fun together. It doesn't take long for them to fall in love. This a common scenario, especially for that time period. But other factors make this match much, much more complicated.
He is Seretse Khama (David Oyelowo) the King of the African nation of Botswana. She is Ruth Williams (Rosamund Pike), a London office worker. He is black; she is white. Their proposed marriage is challenged not only by their families but by the British and South African governments.
South Africa has just introduced apartheid, a series of laws designed to keep blacks and whites separate in almost every aspect of life. And a highly visible interracial couple, especially a black man and white woman, in a neighboring country threatens the foundation of these new laws. The British, heavily reliant upon South Africa's uranium and gold, doesn't want to upset its trading partner. Further, there is also a risk of war if South Africa invades Botswana, a British protectorate.
A United Kingdom is a fascinating story that would almost be unbelievable if it weren't true. And it's a See It! The story moves quickly through the mutual attraction which overwhelms Ruth and Seretse. Each seems to believe that the other isn't as serious about the relationship as he or she is. As the story develops, it's clear that there is nothing political or Machiavellian about their love. It's pure and natural as any bond between two people. Yet her father disowns her. His uncle who carefully molded his nephew to assume the mantel of power now views his mentee as unfit to serve as king.
A United Kingdom effectively depicts the political atmosphere at that is extremely hostile to a union that in today's world would cause in many cases, no more than a minor stir. (However, there is a bit of a buzz over Prince Harry's current, apparently, serious relationship with African-American actress, Megan Markle.)
The dialogue is used as a powerful device to capture the sentiment of each side. Ruth's sister who supports the relationship nevertheless reminds Ruth of English facilities that post signs: No blacks. No Irish. No Dogs. And Seretse's uncle delivers a powerful speech besieging his countrymen to reject his nephew as their leader pointing out that the British would have never allowed Princess Elizabeth's ascendancy to the throne as queen, had she married a Negro.
But filmmaking is about basics. And, A United Kingdom is a love story and it doesn't work unless Rosamund and David sizzle together - and they do. They worked together before and Oyelowo hand-picked Pike for the project. They create the on-screen bond which convinces audiences that they could withstand international manipulation and hostility.
The film is directed by Amma Asante, who is British, and whose directing credits include the film, Belle. She, a black woman married to a man of Scandinavian heritage said in a recent interview that all interracial marriages even today, are political - or at least viewed that way.
A United Kingdom is Rated PG-13 for some language including racial epithets and a scene of sensuality and is 111 minutes in length. It will educate, entertain and amaze you. And it's a See It!