Enjoy the holiday and skip Baywatch this weekend [MOVIE REVIEW]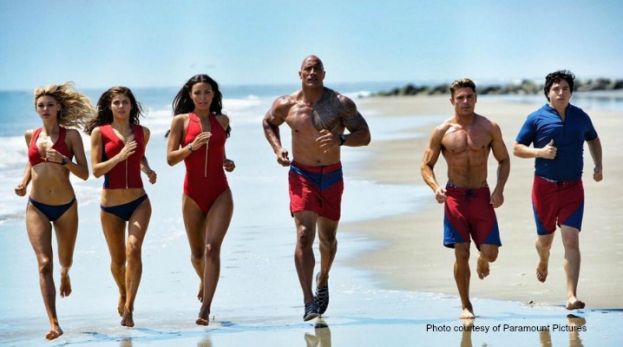 Photo Courtesy of Paramount Pictures
Baywatch cast from left to right: Kelly Rohrbach, Alexandra Daddario, Ifenesh Hadera, Dwayne Johnson, Zac Efron, and Jon Bass
The elite Baywatch lifeguard team sets up to hold tryouts for the new season. Mitch Buchannon (Dwayne Johnson) leads the team. Among those trying out is two-time Olympic Gold Medalist, Matt Brody (Zac Efron). Brody has struggled recently and being one of the lifeguards is part of his rehabilitation plan. However, the old school Buchannon and the new arrival Brody don't see eye-to-eye on much which leads to what might be called a shark fight. Against this backdrop, there are also bodies being found in the Baywatch waters.
Baywatch ultimately drowns in a sea of implausible story lines. But there is enough of an entertainment value to eke out a Rent It rating.
First, the idea of a two-time Olympic Gold Medal winner trying out for a lifeguard crew is so amusing that no matter how hard the writers try to breathe life into that plot line, it flounders. Next, there's the Baywatch team investigating a crime ring, complete with going undercover. There is also dubious dialogue. One of the characters explains that if the owner of a seaside restaurant were to die, the property would go to the city. What? If he is truly the owner then it would be a part of his estate and go to his heirs. But why let well-known facts get in the way of telling a story that has no credibility anyway?
Great bodies are not enough to save this movie. Great bodies are all over TV, the internet, magazines and on the big screen. They are no longer unique or special.
Baywatch does make a few splashes. Like Buchannon's constant run-ins with the nerdy police sergeant Ellebe (Yahya Abdul-Mateen II). Sometimes the officer simply can't tell whether he's being complimented or insulted when talking to Buchannon. It's good to see Johnson, who is also a producer of Baywatch, looking massively muscular at the age of 45; he's a walking, talking example of the age is just a number theory.
The music is eclectic but fitting: Beach Boys, Chi-Lites, Commodores, and the Bee Gees.
Baywatch gets an "A" for cast diversity. The cast looks like America – at least racially. Other cast members include Priyanka Chopra, Alexandra Daddario, Kelly Rohrbach, and Ifenesh Hadera. It should be noted that there are very few old folks in the film.
Baywatch is rated "R" for language throughout, crude sexual content, and graphic nudity; it is 116 minutes in length. There's not enough here to justify going to the theater to see Baywatch, this Memorial Day weekend. But later if you have a chance to Rent It, please do.