Girls Trip - Avoid This Nasty Adventure! [MOVIE REVIEW]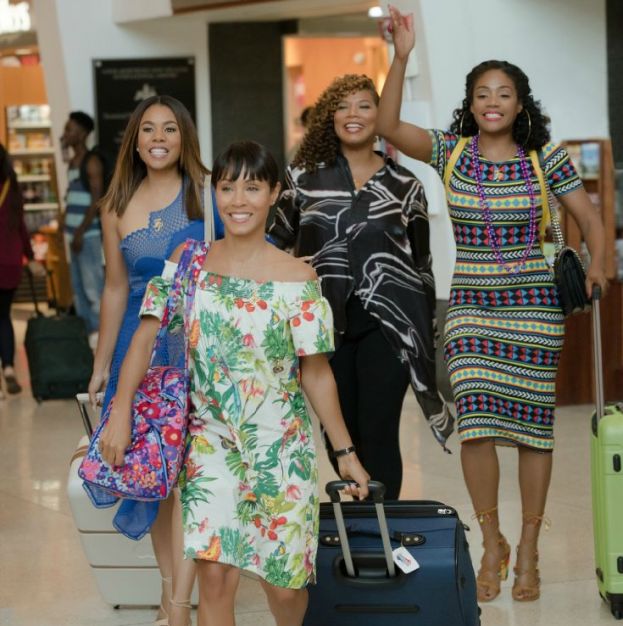 Photo Courtesy of Universal Pictures
Regina Hall, Jada Pinkett Smith, Queen Latifah, and Tiffany Haddish principal cast members of Girls Trip.
In Girls Trip, the decades have passed and four college friends Ryan (Regina Hall), Lisa (Jada Pinkett Smith), Dina (Tiffany Haddish), and Sasha (Queen Latifah) travel to New Orleans for the annual Essence Festival. They are determined to have a GOOOD time and unleash all inhibitions.
Girls Trip is a Trip. It's vulgar, crass and disappointing. This barrage of crudeness is ultimately the film's undoing. There is a constant referencing to women as the "B word". And, the "N word" and MFs are flying everywhere. There's nothing funny about someone suspended in air urinating on the people below. This happened twice! Dina is sexually tempted by a filthy, old, homeless man who exposes himself to the group.
The characters are stereotypes fitting comfortably into pigeon holes. Tiffany Haddish, who I have to admit I had never heard of before, as Dina, is loud, crude, damn near a nympho. On the other hand, Lisa is matronly, prim and proper, and blindly devoted to motherhood. Sasha is the struggling one who's trying to keep up a façade of financial and career success while things are crumbling. And then there's the highly successful Ryan whose fairy tale marriage to former football star, Stewart (Mike Colter), is marketed as an example a woman who's having it all.
The storyline involving Ryan and her husband is substantive and interesting. His ability to smoothly rationalize his misgivings is nothing short of amazing. Unfortunately, his talent and the film's attention to worthy scenes are lost in a bombardment of B.S.
I am embarrassed for Regina Hall, Queen Latifah, and Jada Pinkett Smith because they are all talented actresses. And I understand that there's a paucity of quality roles for black women in Hollywood. But, Girls Trip?
Further, I don't know where they got the "guy" who's hairless, lotioned, lady legs are featured in the film's poster. Real men don't shave their legs – unless they're swimmers.
Girls Trip is written by Kenya Barris who penned Barbershop: The Next Cut. That film featured black men of dignity and character. I wonder why he chose to write such trash for women.
Girls Trip also trips up when it comes to casting diversity, earning a C-. We have to be fair in discussing diversity. Other than Kate Walsh who plays Ryan's agent, Lara Grice, a TV exec, and a few minor roles, this cast is all black including individuals in the background.
Directed by Malcolm Lee and produced by Will Packer, Girls Trip has a modest budget for films today, $28 million. It's rated R for crude (you can say that again), sexual content throughout, pervasive language, brief graphic nudity, and drug material. Girls Trip is 122 minutes too long.
Sorry girls but your trip is Dead on Arrival!