Fifty Shades Freed Entertains [MOVIE REVIEW]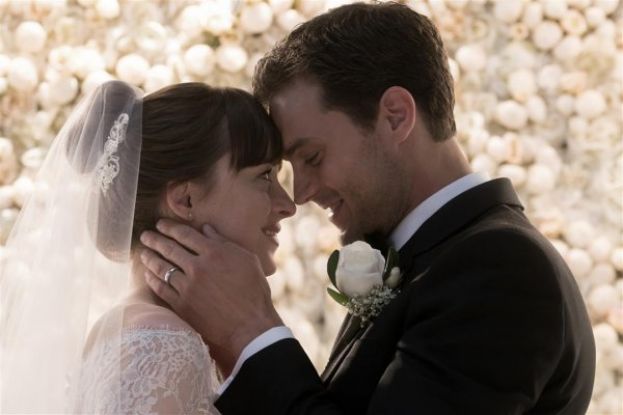 Photo Courtesy of Universal Pictures
Dakota Johnson (left) and Jamie Dornan in marriage scene in Fifty Shades Freed
Christian Grey (Jamie Dornan) and Anastasia Steele (Dakota Johnson) return in the third and final film series based on the bestselling Fifty Shades novels.
The film opens with Christian and Ana trading marriage vows, looking to a new life of shared love and luxury.
Of course, there's a lot of sex, but Fifty Shades Freed, more than anything else entertains and it gets a See It! rating.
The story does strain credibility in an effort to bolster the story. In the scenes after the couple gets married, Anastasia behaves more like someone who just met Christian than someone who knows and agreed to marry him: She didn't know he had a domestic staff at his apartment, he had his own plane, and that she will have a security detail following her around. Apparently, after the long and extensive history of sexual gymnastics, they don't know each other's viewpoint on having children.

However, the characters are fuller and richer than in Fifty Shades of Grey where they both seem empty and vacuous. In this edition, they are more interesting and more balanced characters. While sex can be a draw to a movie, there has to be more to a film for it to succeed. Here there's drama and amusing dialogue.
Fifty Shades Freed gets a B+ for cast diversity. Set in Seattle, a city in which people of color make up about a third of the population, the film has a diverse group of people of color in supporting and background roles.
Fifty Shades Freed is rated "R" for strong sexual content, nudity, and language and it is approximately 105 minutes in length. Fifty Shades Freed will be worth your time and money.