Luce is a loser [MOVIE REVIEW]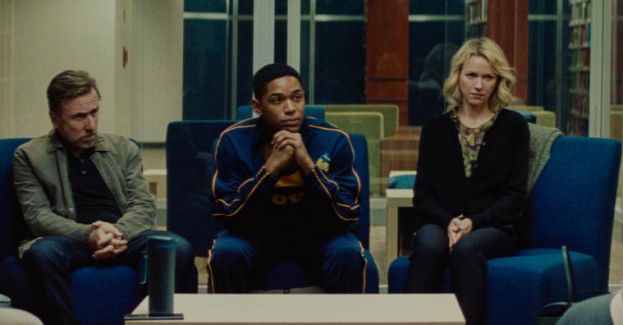 Photo courtesy of NEON
Actors Tim Roth, Kelvin Harrison, Jr. and Naomi Watts talking with school officials in Luce.
Despite being only a teenager, Luce (Kelvin Harrison, Jr) has had an eventful life. Rescued from a war-torn country and adopted by an American couple, (Naomi Watts and Tim Roth), he becomes an excellent student, stellar athlete, and the pride of his school. But all he has worked for is in jeopardy when one of his teachers (Octavia Spencer) makes a troubling discovery in his locker. The question becomes is Luce the person everyone thought he was or does his teacher have a vendetta against him?
In my rich and varied experiences as a black man in America, I sometimes see films with African American casts and storylines, and I find myself asking, "Who wrote this?" Because in Luce, as in others, the behavior and dialogue lack authenticity. And almost always I find the writers are not people who know the African American experience. And such is the case with Luce, written and directed by Julius Onah, who was born in Nigeria and raised there as well as in the Philippines, Togo and, the United Kingdom. Onah did go to high school in Virginia while his father served as a diplomat in the U.S.
He creates three black teens in the story, Luce, who as the story references, is Obama-like – at least as it appears. The two others are thugs, fighting, swearing – every other word is MF and N. These young men are stereotypes. As a person who has taught and worked extensively with urban youth, I know that young black men are so much more diverse and complicated than this film shows- one good kid, maybe, and two hoodlums.
Octavia Spencer's character, in addition to being at odds with Luce over the locker incident, has a mentally ill sister who shows up at the school one day and behaves in a disturbing fashion. This entire subplot adds nothing to the film.
Another problem with this story is one which is common in screenwriting when writers use dialogue to share information with viewers. There are discussions between people such as spouses who have been in longterm relationships, revealing information as "new" that any real couple would have talked about before.
Tim Roth and Naomi Watts who play Luce's parents have a close relationship. But Roth who has no trouble being frank with his wife, states that from the beginning he had apprehensions about adopting Luce. His wife is surprised. But wouldn't a husband who communicates with his wife have brought up these concerns before delving into the difficult process of adopting a child from another country? Or talked about it sometime in the over a decade and a half they have had Luce as part of their family? These doubts help viewers to understand the father's view but are not credible because as devoted as this couple is betrayed to be, they would have had this discussion before.
This film shot in grainy 35 MM, leaves some questions about who's right and who's wrong in this story. But neither of those issues deflect from the quality of the movie. Luce is done in by its overwhelming lack of credibility.
It's 109 minutes and R (for language throughout, sexual content, nudity, and some drug use). It gets our lowest rating, "Dead on Arrival!" In other words, skip this film.