Good Boys is sort of good. [MOVIE REVIEW]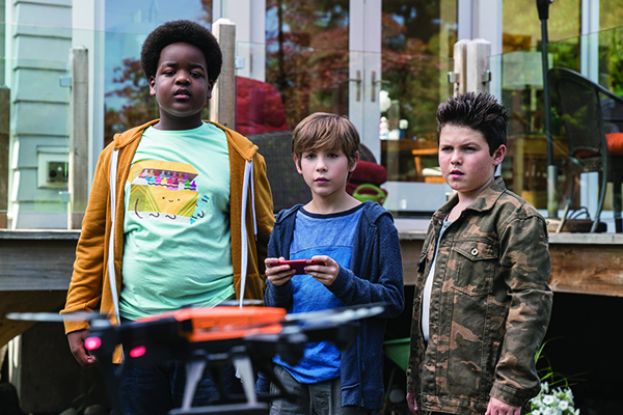 Photo Credit: Universal Pictures
Keith L. Williams, Jacob Tremblay, and Brady Noon, young actors in a scene from the movie, Good Boys.
Twelve-year-old, Max (Jacob Tremblay) has a lot to worry about. He's invited to his first kissing party and panics because he doesn't know how to kiss. His friend Thor (Brady Noon) convinces him to spy on a teenage neighbor and her boyfriend, to get lessons on how to smooch. So Max, Thor and another friend Lucas (Keith L. Williams) decide to use Max's dad's drone -- which Max is forbidden to touch -- to spy on the couple. Their plan goes awry and the drone gets destroyed. Leading the kids on an arduous adventure to replace the device before Max's father gets home - while also learning how to kiss.

Good Boys, directed by Gene Stupnitsky, combines coming of age humor with a bunch of crazy events happening in a short period – in this case, one day. A filmmaking style made famous in 1983 by Tom Cruise's Risky Business. Most of the laughs center on the boys' swearing and trying to figure out what the purposes of the devices Thor finds in his parents' bedroom.
The film also touches on serious topics like parental divorce.
But ultimately, Good Boys is just a series of funny screens, but nothing filmgoers need to see right away. It gets a Rent It rating.
Good Boys scores an "A" for cast diversity. This is a highly diverse group in this film. Max's dream girl is an adorable teen of color. Good Boys is also diverse in character roles. Max's friend Lucas, the black kid, is not the stereotypical thug. Rather he's a nerd. A rule follower. The nice guy in the group. Additionally, the Alpha Male, the coolest dude at their school is a petite, Asian American (Izaac Wang).
While Keith L. Williams is a head taller than his two Good Boys co-stars, he's actually the youngest of the three.
Good Boys is rated "R" for strong crude sexual content, drug, and alcohol material, and language throughout and is 95 minutes in length. Again, no need to take the time and spend the money to see this at the theater. Wait and Rent It.