Ready or Not is Gruesome [MOVIE REVIEW]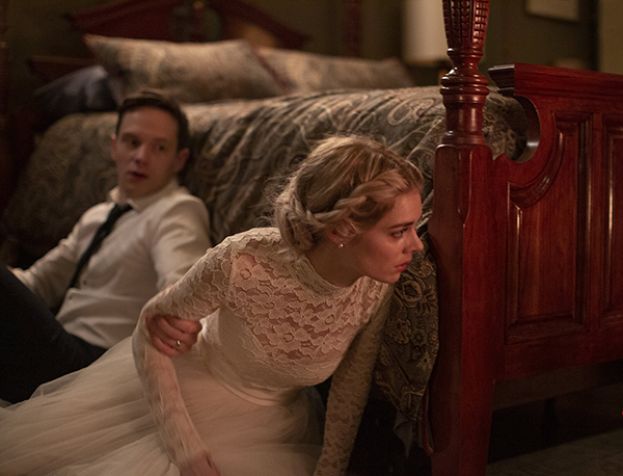 Photo Credit: Walt Disney Studios Motion Pictures
Mark O'Brien (l) and Samara Weaver, the primary actors in the movie, Ready or Not, hiding next to a bed in a deadly game of hide and seek.
One of the days many women dream about from childhood is their wedding day. Grace (Samara Weaving) can't hide her excitement about marrying Alex (Mark O'Brien). They have been blissfully happy together for years. And today, they both are thrilled to formalize their love before family and friends. However, the night after the wedding, Grace, and Alex join in a ritual that has been a part of Alex's family for generations: selecting a game to play. When Grace pulls the hide-and-seek card as the selected activity, her dream day turns into a nightmare.
Ready or Not is bloody, violent, bloody, morbid, bloody, intriguing, and bloody. If you're a horror film fan, you'll love it. And it gets a See It! rating. The screenwriters' layout of this story, detail by detail. Viewers know what's going on and why. Every character plays a valuable role in the development of this movie.
Samara Weaving is a sympathetic protagonist as the young, trusting, and very much in love bride ultimately relying on her wits to win this life or death game she never imagined playing. Without her strong performance, this film doesn't work.
The directors Matt Bettinelli-Olpin and Tyler Gillett visually highlight the macabre results of every act of violence. You're not human if don't wince a few times watching this film.
It's hard to give Ready or Not, a cast diversity rating because it centers on the (Caucasian) groom's few family members. I guess they could have had a person of color as part of that group which in this day and age wouldn't have been uncommon. But they don't. However, at Grace's and Alex's wedding earlier that day, the guests include several people of diverse races.
Ready or Not is 95 minutes in length and rated "R" for violence, bloody images, language throughout, and some drug use. Ready or Not is an exceptional production and again, gets a See It! rating.