Movie Review: Southside with You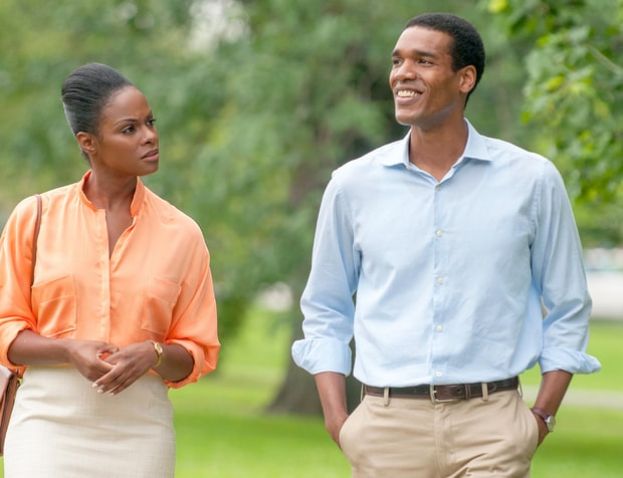 Photo Credit:Matt Dinerstein/Miramax and Roadside Attractions
Tika Sumpter and Parker Sawyers portray the young Michelle Robinson and Barack Obama in the movie Southside With You.
Low-budget, but an ultimately effective film. See It!
It could be called Michelle and Barack's first date. Because that's what this movie is all about. Set in Chicago in the summer of 1989, Michelle Robinson (Tika Sumpter), a second year associate at a major law firm, agrees to spend the afternoon with the Harvard Law School intern she supervises, Barack Obama (Parker Sawyers). She's apprehensive about the propriety of going out with someone she manages and refuses to call the outing, a date.
Southside With You squeezes in more verbiage and conflict than this young couple probably engaged in on their first date. This smorgasbord of issues includes whether it is a cop out to make big bucks at an elite law firm rather than to give back to the community; whether Michelle should even be out with her employee; parent-child relationships; Barack's history of dating white women – among others.
One of the primary requirements of a film based on real people, especially very well-known real people, is that the actors selected to play those people are effective. Parker Sawyers does capture the image and persona of the first black president of the United States. In fact, he is much better as Barack than Tika Sumpter is as Michelle. Summers at 6'3" is a bit taller than Obama but has the same lean frame. While the script has Michelle teasing Barack about his protruding ears, Summers does not have prominent ears. Tika at 5'7" uses thick sole shoes to put herself closer to Michele's 5'11" height. And there is very little in Sumpter's presence, voice, or appearance that resembles the First Lady.
At 84 minutes, Southside With You, is short and the first scenes in which both characters prepare for the date were definitely overdone. Michele's parents repeatedly chide her over every detail about Barack and their planned outing. As if she has never been on a date in her life. On Barack's end, his grandmother from Hawaii calls to coach him on dos and don'ts for the evening.
It's hard to give Southside With You, a diversity rating. This movie is based on a true story in which by-in-large everyone is black. However, there was a scene in which much to Michelle's horror, she and Barack run into (a white) partner and his wife while they were out for the evening. A fair rating would be a "C".
In conclusion, Southside With You is a thought-provoking and ultimately entertaining film and gets a See It rating!