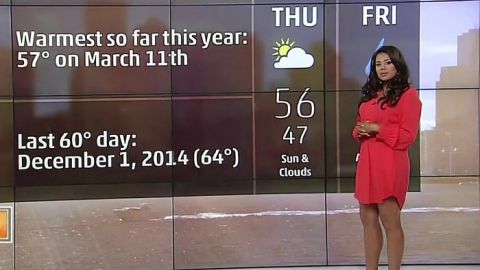 Thousands of people have signed a Change.org petition to have Jennifer Delgado aka "Becky with the Bad Weather Report" removed from her Weather Channel job
In this joint segment of What's The 411's Caribbean Cook-up and On The Carpet, hosts Kizzy Cox and Onika McLean, are reporting on and commenting on The Weather Channel meteorologist Jennifer Delgado's awful comment about Haiti's deforestation and the children of Haiti.
Reportedly, Ms. Delgado stated on air during a weather broadcast of Hurricane Matthew in the Caribbean on October 4th, 2016, that Haiti's deforestation is caused by Haitian children eating trees.
"That's because this whole area has been essentially deforested. They take all the trees down, they burn the trees," Delgado said. She even went one step further to say that "Even the kids there, they're so hungry, they actually eat the trees".
Naturally, with a comment like this, people on social media came for Ms. Delgado and it wasn't pretty. Perhaps, The Weather Channel felt the social media punishment was enough, and therefore, she could still keep her job.
However, over 20,000 people are not satisfied with The Weather Channel's response, as over 20,000 have signed a Change.org petition requesting that The Weather Channel fire Ms. Delgado.