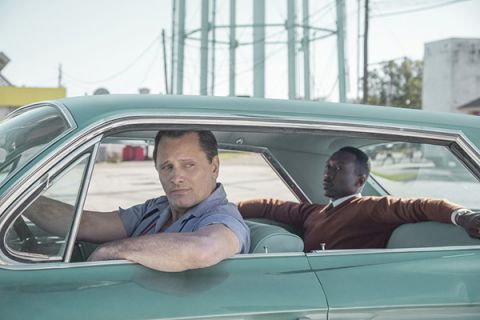 It's the 1960s and Don Shirley, originally from Jamaica, a renowned classical pianist, is the darling of the east coast wealthy elite. While he's not the outspoken civil right advocate type, he believes that displaying his talents in the segregated south might help to change the rigidly racist views held in that part of the country. So Shirley (Mahershala Ali), or Dr. Shirley, as he was referred to because of his Ph.D., and his record company hired-bouncer, Tony Vallelonga (Viggo Mortensen) to serve as his driver/bodyguard during the trip south. The odd couple has very little in common. Shirley is highly educated, cultured and lives alone in his Manhattan penthouse. Vallelonga is a family man, not formally educated and steeped in the customs of the Bronx Italian American community where he lives.
Green Book is everything a film should be. It's amusing, entertaining and educational. The film's title refers to the real publication, The Negro Motorist Green Book, which guided black travelers as to what hotels and facilities they could stay in, eat at and/or have their vehicles serviced while traveling through segregated states.
The two characters exchanged views and disagreed on about everything from food to music, to driving habits, and even on writing letters. There's a validity to positions taken by both of them. And Dr. Shirley's lack of familiarity with black performers such as Chubby Checker and Aretha Franklin shocks Vallelonga.
The fact that the screenplay's co-written by Nick Vallelonga, and the director, Peter Farrelly results in Vallelonga's character being a bit more credible and consistent. Dr. Shirley's character is written where he knows well the rules of the Jim Crow south and seems to accept them but without any explanation tries to reject them. Like when he suddenly insists on eating in the formal dining room at a club where he played. This had not been an issue before or thereafter. So why in that scene?
However, in a very subtle and effective way, the screenwriters capture the doctor's loneliness as a well-educated and refined single black man who would never be accepted as a part of a community of people he performed for; and did not have much in common with most black Americans at that time.
Based upon a true story set in the early 1960s, the film's dialogue has some current day phrases like traveling while black. And the often heard rhetorical question about strange behavior: Who does that?
Part of the Green Book's success is due to the excellent performances of the two lead characters. There has been Oscar buzz about both Ali and Mortensen. The selection of the darker Ali to play lighter hued, Dr. Shirley, raises an issue that black journalists have discussed before: why are famous black people played by actors who look nothing them, i.e. the fair skinned, light eyed, Terrence Howard playing the South African leader, Nelson Mandela. While how much a performer looks like the famed white person he or she will play, is always a factor.
The characters reflect not only the rich diversity of cultures in New York City but how very different communities reside in close proximity. Vallelonga's folksy Bronx neighborhood was very likely no more than a mile or two from Dr. Shirley's wealthy Manhattan enclave.
The cast of the film is diverse. However, it's difficult to grade the diversity of the cast of a true movie. It has to be assumed that the scenes accurately reflect the races of the people at the time the events occurred.
Ultimately, Green Book is more than a movie; it's an experience. It gets a See It! rating. It's rated PG-13 for language, smoking, violence, and some suggestive material. Green Book is 130 minutes in length.