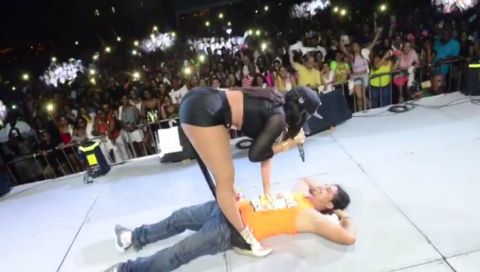 VIDEO DISCUSSION: Destra is

sued

in Belize for injuring man at one of her concerts; judge sides with injured man

"Heavy T Bumper!"

Soca artist Destra is very popular in the Caribbean, her concerts are known for its pumping music that gets your body moving.

Destra invited Fernando Oliva, a man from Belize, onto the stage during one of her concerts and had him lay down on the floor, according to reports. A move that undoubtedly made the Oliva the envy of other men in the audience.

Against the backdrop of pumping soca music, Destra dropped herself butt first onto Oliva's groin area.

That did not go well. She burst the Oliva's bladder and he sued Destra for medical fees, 2 months of missed work as well as pain and suffering.

A Belizean judge ordered Destra to pay the Oliva just over $55,000 TT dollars amounting to less than 10,000 USD.