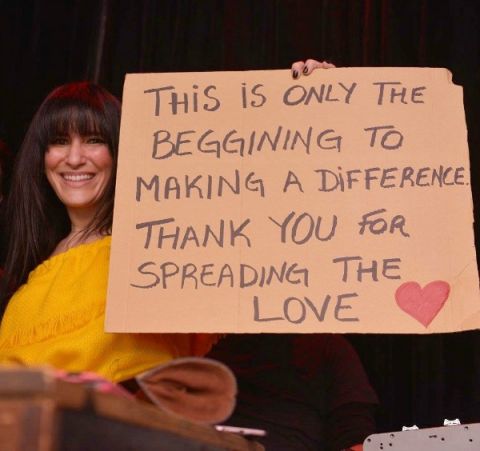 Jordana Guimaraes,

founder

of the Nylon Project; combined philanthropy, fashion, beauty, and entertainment at launch event during NY Fashion Week 2017

The Nylon Project, an undertaking created to aid the rapid homeless epidemic in NYC, founded by Jordana Guimaraes, CEO of ACL PR & Marketing and Cosmo Life, held its buzz-worthy philanthropic launch event at the popular nightlife spot, The Delancey in Manhattan during NY Fashion Week Fall 2017.

This Nylon Project during NYFW was no ordinary affair. The show combined philanthropy with entertainment, beauty, fashion, celebrity, and influencers. Not to mention that it was filled with plenty of excitement, anticipation, live performances, plenty of networking, and sponsored brands aplenty.

Celebrities ripping the runway for this important cause were Christina Milian, JWoww, Peter Madrigal of Vanderpump Rules, and Miss New York 2016 Nicole Kulovany, just to name a few. The fashion portion of the show ended with performances by the FAULKNER, Che'Nelle and Wé McDonald of The Voice, Season 11.

After the show, I spoke with Jordana about the Nylon Project's fight against the homelessness epidemic in New York.

Q. What inspired you to create The Nylon Project?

A. I was born and raised in Rio de Janeiro, Brasil. It's a place with lots of poverty. From when I was a little girl, there was something innate within me that always made me want to ask my parents for money or to buy gifts to give to the less fortunate. I remember walking down the streets with my parents, and them telling me I'd never have money in my account, as I would always give it away to the needy. Now that I'm older and have been in the fashion/entertainment world for 13 years, I've decided to take the three things I love, lifestyle and helping others, and creating relationships, and create The NYLON Project.

Q. The Nylon Project's launch event mixed charity/philanthropy with fashion, music, the arts, and entertainment. We don't generally see the charity-fashion mix often during NY Fashion Week. Why did you choose NY Fashion Week for a launch event for the Nylon Project?

A. I created The NYLON Project and created the launch event surrounding NYFW since the initiative is: aiding the homeless - giving a face to homelessness - via fashion/entertainment tactics surrounding a viral #ItCanBeYou campaign. It goes hand-in-hand because fashion/entertainment is one of the largest industry where the masses - whether it's those who are in it or those who appreciate & follow it - connect and relate! If you get those millions of people to start posting + conversing about the homeless problem, they will stop being invisible (which is what has come to happen), and we will start to show them that we are behind them!

Q. The event was a success, is there anyone you would like to thank for their participation and involvement?

A. Yes!! It wouldn't have happened without the support and love of my husband who helped me with making my ideas come to fruition, as well as encouraged me when everyone else said, "it's a big job... you sure you can do it?". Of course, the sponsors and influencers/celebrities who gave their time were fundamental! Rodrigo Faustino of CommGroup who branded and created the logo design for the project!

Q. Do you have any more events coming up in the future?

A. Yes! It starts with New York City (since it's where I reside) but it will go internationally! June 2017, we are joining a magazine in L.A. for their one year anniversary (taking the project to L.A. next year in 2018) and a bigger NYFW show in September 2017.

Q. How can someone donate or become involved?

A. Simply follow us on IG @thenylonproject1 or visit www.thenylonproject1.com. All of our contacts are on both; drop us an email and become a part of history!