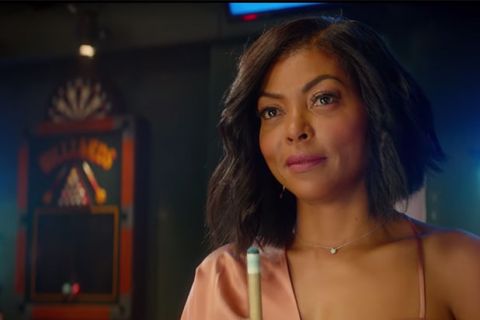 Jordan Peele is back with another thriller, and you get at least two opportunities to see Taraji P. Henson and Michael Ealy in movies in 2019
1. What Men Want
What Men Want is a twist on Mel Gibson's 2001 movie, What Women Want, and is the story of a female sports agent (Taraji P. Henson) who has been constantly edged out by her male colleagues. Once she learns to listen to men's thoughts, she shifts her strategy in her race to sign the NBA's next LeBron James. Among the costars is Richard Roundtree who back in the 70s played John Shaft who was a bad mother. . . shut your mouth! Just remembering Shaft!
What Men Want is expected to open on February 8, 2019.
2. The Upside
Inspired by a true story and based upon a hit 2011 French film, The Upside stars Kevin Hart and Bryan Cranston in a warm comedy about a recently paroled ex-convict who begins an unlikely friendship with a paralyzed billionaire. Bet you can guess who plays the ex-con and who's the billionaire. The Upside opens on January 11, 2019.
3. Us
After his provocative 2017 megahit Get Out there was no doubt that Jordan Peele would be back writing and directing, but he's holding the storyline for Us close to the vest. Nevertheless, we do know, it will be a thriller and it stars Lupita Nyong'o, Elisabeth Moss, and Black Panther's Winston Duke. Us is scheduled to be released in the United States on March 22, 2019, but if you're going to South by Southwest, you might be able to catch the World Premiere of Us on March 8, 2019.
4. Pet Sematary
This a remake of the 1989 film based upon Stephen King's seminal horror novel, Pet Sematary. This version is set in rural Maine where Dr. Louis Creed, his wife, Rachel, and their two young children find a mysterious graveyard hidden deep in the woods near the family home. When tragedy hits the family, the doctor turns to his eccentric neighbor, Jud Crandall for advice, setting off a horrific series of events that the doctor could have never imagined. Pet Sematary opens on April 5, 2019, and stars, Jason Clark and Jon Lithgow.
5. Jacob's Ladder
After his brother dies in combat, Jacob Singer, played by the blue-eyed brother, Michael Ealy, returns home from battle-worn Afghanistan only to fall into a deep state of paranoia as he comes to believe that his brother is still alive, and life is not what it seems. Jacob's Ladder, a remake of the 1990 film of the same name, doesn't have a release date as of yet. However, the film's distributor, LD Entertainment, says Jacob's Ladder is expected to open in 2019.


6. Tyler Perry's A Madea Family Funeral
A fun-filled family reunion becomes a disaster as Madea and her kin travel to backwoods Georgia, where they plan a funeral that could unearth some deep dark family secrets. Of course, Tyler Perry heads the cast in Tyler Perry's A Madea Family Funeral, along with Courtney Burrell, Patrice Lovely, and Ciera Payton. Tyler Perry's A Madea Family Funeral opens on March 1, 2019.
7. The Best of Enemies
Inspired by the true events during the civil rights era, The Best of Enemies stars Taraji P. Henson as Ann Atwater, a fiercely determined civil rights activist in North Carolina, and Sam Rockwell as the Exalted Cyclops of the Ku Klux Klan. The two conduct a 10-year battle, which ends in an abrupt and unlikely way in 1971. The Best of Enemies is based on the book, The Best of Enemies: Race and Redemption in the New South by Osha Gray Davidson opens on April 5, 2019.
8. The Intruder
Michael Ealy (yes, him again) and Meaghan Good star in The Intruder, a psychological thriller about a young married couple who buys a beautiful Napa Valley home only to find that the previous owner (Dennis Quaid) simply won't let the property go and will stop at nothing to drive them out. The Intruder opens on May 3, 2019.
9. Fighting With My Family
Fighting With My Family is based on the 2012 documentary, The Wrestlers: Fighting With My Family, depicting the WWE career of the professional wrestler, Paige. The movie stars Florence Pugh as Paige, and Dwayne "The Rock" Johnson makes an appearance. Fighting With My Family opens at Sundance on January 28, 2019, and nationwide on February 14, 2019.
10. Aladdin
The musical romantic fantasy Aladdin returns. Having been released in an animated version in 2017, this edition features real living and breathing humans. Aladdin stars Mena Massoud as the title character alongside Will Smith as the Genie.