Amnesty International: Brooklyn Brings Human Rights Home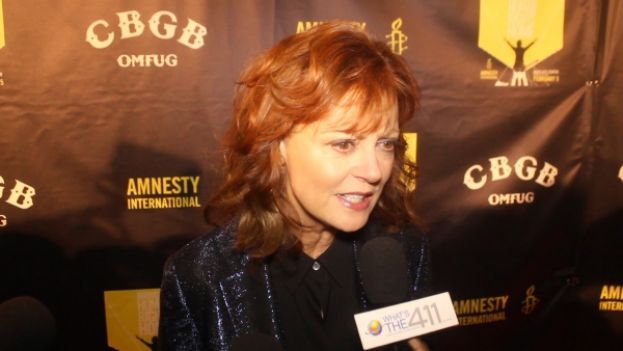 Photo Credit: Alexis Williams/What's The 411 Networks
Actress Susan Sarandon on the red carpet for the Amnesty International concert
What's The 411TV host Bianca Peart was on the red carpet at the Barclays Center for Amnesty International's concert for human rights. Ms. Lauryn Hill headlined the concert and actress Susan Sarandon emceed the event.
Uniting a new generation of human rights supporters, Amnesty International hosted its "Bringing Human Rights Home" benefit concert at Barclays Center in Brooklyn, New York. Artists who performed included 2014 Grammy Award Winning Group - IMAGINE DRAGONS, THE FRAY, MS. LAURYN HILL and THE FLAMING LIPS. This video also includes interviews with: COLBIE CAILLAT; WAYNE COYNE; INDIE DUO TEGAN SARA, and COLD WAR KIDS, NATHAN WILLETT and MATT AVEIRO.
Actress and human rights activist, Susan Sarandon emceed the concert.
MADONNA introduced special guest speakers MASHA ALYOKHINA and NADYA TOLOKONNIKOVA, members of Moscow's punk art collective group PUSSY RIOT, who were recently imprisoned for 21 months in Russia for "hooliganism on the grounds of religious hatred" which violated President Vladimir Putin's regime against gay and human rights.
WATCH VIDEO: CELEBS ON RED CARPET AND MS. LAURYN HILL FOOTAGE
Madonna shared her experience in Russia during the height of Masha and Nadya's imprisonment where she received several death threats during the last leg of her tour in Moscow because her show was promoting "gay behavior," which resulted in her getting sued for $1 million for committing a "criminal act."
"They [Pussy Riot] do not share the same freedom in Russia so they must be commended for their courage and their fearlessness. For their willingness to fight in what they believe in regardless of the consequences...and I know they do not regret the sacrifices they made." Madonna continued by chanting "can I get a hell yeah?!"
Maria and Nadya went on to say "freedom is not a given, it is something we have to fight for every day. It is our duty to speak for those who are still behind bars." Amnesty International activists played a large role in releasing them from prison early through thousands of online actions.
Amnesty International is a global movement of more than 3 million individuals campaigning to defend human rights and fight injustice for all mankind. Notably, they raised awareness during their six-week, five-continent, twenty-concert "Human Rights Now!" world tour with over 1 million attendees featuring Bruce Springsteen, Sting, Tracy Chapman Youssou N'Dour and Peter Gabriell. Those benefit concerts helped triple Amnesty International's membership.
And 25 years later, they decided to host "Bringing Human Rights Home" benefit concert and reach out to a newfangled wave of human rights supporters. The concert was streamed online live for its first time- extending awareness to supporters around the globe.
The emcee of the concert, actress and human rights activist, Susan Sarandon said "it's fabulous to celebrate Amnesty after all these years; they've really grown and accomplished so much..." she continued "... Pussy Riot, just the fact that we can say Pussy Riot, I love it."
December 10, 2013 marked the 65th anniversary of the signing of the Universal Declaration of Human Rights. Amnesty International was created mainly to support the Declaration and assure every person around the globe is free of their human rights and treated with justice. The organization continues to grow and create a stronger path for the future of humans around the world.
View the video to see how participating artists define human rights and their appreciation for the mark Amnesty International has made since its founding in 1961.
To find out how to get involved and learn more about defending human rights go to www.amnesty.org.
Last modified onSunday, 24 August 2014 12:12