Kyle Knight: A Conscious Rapper on the Rise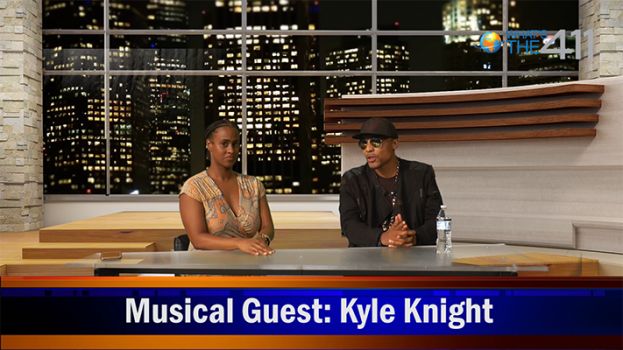 Photo Credit: What's The 411 Networks
Keshia Wilson, What's The 411Sports host, and Kyle Knight, an up-and-coming, conscious hip-hop artist, on the What's The 411 set
Kyle Knight, an artist who is walking a path less traveled, knows what he wants and is working to get there
Kyle Knight, an up-and-coming hip-hop artist, stopped by the What's The 411 studio for a wide-ranging interview with Keisha Wilson and to talk about his latest single, "Hey Sister".
Dubbed a conscious rapper/lyricist, Knight equates conscious to life, and therefore, considers himself to be a life artist.
"The word conscious stands for the word life to which I am a life artist, a life rapper," Knight stated. "I feel content and I feel strong and I feel confident enough to really work my niche, which is being a conscious artist. Now, I am not saying that everything I do is going to be conscious. There is going to be a lot of material that I write and things that I do. But, it is important that a young man such as myself comes out the gate right as an artist, in terms of songwriting, in terms of recording ability… that's not to say I may not do something in today's radio type of feel, but where it is now, is really coming out the gate as strong as possible, as a life artist, as a conscious artist, conscious rapper."
Knight's father (David Knight) is also a musician; his production credits include a remix of SVW's (Right Here) and work with iconic rap legend Chuck D. Through his father's influence and mentoring, Kyle got started in music at an early age. He also avoided "street pull" in his adolescent years because he found his individuality early and because he loved songwriting.
Fed on a wide variety of musical genres from classical leanings and influences like Motown to Nas, Michael Jackson, and Tupac; Kyle Knight's exposure to music broadened quickly. As his own interest in performing grew, so did his lessons on the gears and mechanics behind the craft. Areas of study included artist development, proper lyric writing, and artistry in recording vocals. Even his digging into the crates of old-school techniques became a foundation for his unique sound.
Knight, not concerned about going his own way, found inspiration when he traveled to Morocco and Ghana, two countries in Africa. What struck Knight most about Morocco and Ghana was the poverty, the history of the people, the music, and, of course, the people. This visit influenced Knight's worldview and by extension, his perspective on life and songwriting.
Although just getting started as a professional, Knight sees in his future writing for other artists, expanding his song catalog, modeling street fashion with a GQ look, and acting in movies and TV, particularly street and activist roles.
You can stay in contact with Kyle Knight and purchase his latest single, "Hey Sister," and his previous single, "The Truth" on his website, https://www.kyleknightmusic.com, and from there you can connect with him on social media.