Anita Baker Backstage at Soul Train Awards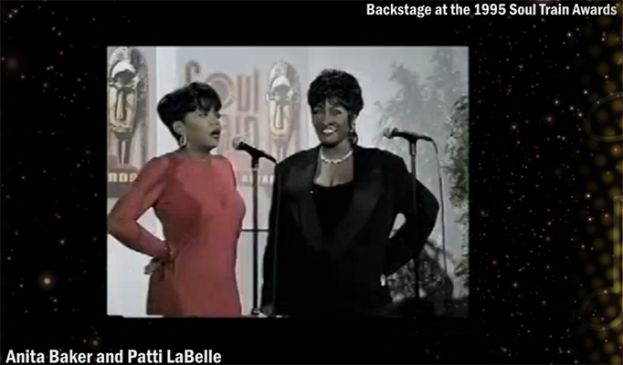 Award-winning singers Anita Baker (r) and Patti LaBelle are talking with the media backstage at the 1995 Soul Train Awards
Anita Baker wins two Soul Train Awards and his blown away by Diana Ross and Berry Gordy in the audience
In this video award-winning singer Anita Baker, along with Patti Labelle, are talking with the media backstage at the Soul Train Awards.
Ms. Baker is expressing her excitement about seeing Motown founder Berry Gordy and Diana Ross, lead singer of the original Supremes, in the audience while she was performing.
Ms. Baker, a Detroit native, explains that Detroiters view Gordy and Ross in high regard, in effect the First Family of Detroit.
Anita Baker won two Soul Train Awards at the 1995 awards show.
Held at the Shrine Auditorium in Los Angeles, California, the Soul Train Awards honors the best in R&B, soul, rap, jazz, and gospel music from the previous year.
This year's show, held on March 13, 1995, was hosted by award winners in their own right Anita Baker, Babyface, and Patti LaBelle.
Last modified onWednesday, 03 January 2018 00:15