Irresistible Me Singer, Cindy Rainne, Says Never Give Up on Your Dreams | What's The 411 MUSIC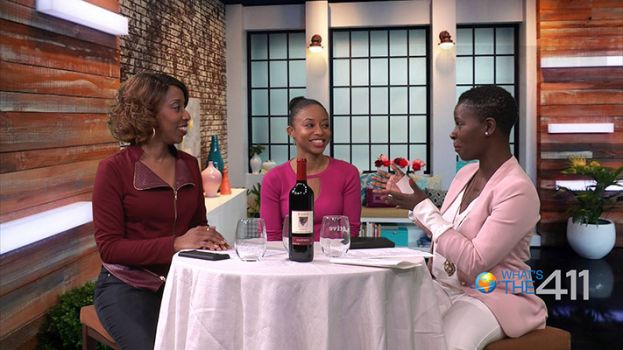 Photo Credit: What's The 411 Networks, Inc.
Singer/Songwriter, Cindy Rainne (center), talking with award-winning journalist, Kizzy Cox (left), and comedian Onika McLean on the set of What's The 411.
VIDEO DISCUSSION: Cindy Rainne, the Irresistible Me singer, Shares Her Blueprint for Getting Unstuck and Going After Your Dreams
If you are an aspiring singer, or a singer stuck in a rut, then you do want to watch What's The 411TV's interview with singer-songwriter Cindy Rainne.
At What's The 411TV, we're not aspiring singers, but the things that were getting in the way of Cindy Rainne being her best self happens to all of us at some point in our lives. How Cindy dealt with those issues to get her on the road to be her best self can be a lesson for all of us.
What's The 411's hosts, award-winning journalist, Kizzy Cox, and comedian Onika McLean, are hanging on to every word as Cindy Rainne shares her journey. She talks about her life experiences including some of her experiences during her painfully complex childhood and how she changed her outlook on relationships with men.
Cindy demonstrates her resourceful when she details how she raised money to get her album/EP produced by a well-known producer in London, a feat no one thought she could pull off. If you don't know by now, in the music industry and in life, the right relationships matter.
You can catch Cindy Rainne's next performance on Monday, June 17, 2019, at the Groove in New York City, and she will be traveling to perform in Switzerland this summer.
Follow Cindy @CindyRainne on Instagram and Facebook.
Check out Cindy Rainne's music video, Irresistible Me.
Also, have a listen to Cindy's latest release, The Mask:
Cindy Rainne is truly an inspiration to anyone with a dream.
And, if you like being inspired, be sure to watch What's The 411's interview with FATi, the new Queen of AfroPop.
We can definitely see these two ladies performing together in the future.
Last modified onSunday, 26 May 2019 15:54