The Artists That Have Influenced Blushhh Music May Surprise You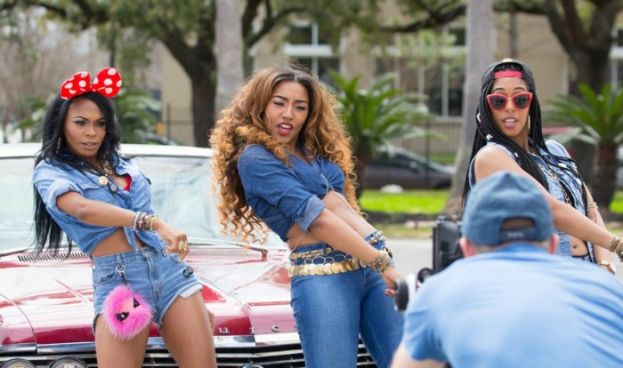 Photo Credit: Music World Entertainment
Blushhh Music (l to r) Bunni Ray, Tali, and Sunnie on the set of their music video for their debut single, Old School Back
MC Lyte, Missy Elliott, Destiny's Child, Left Eye, Kanye West, and the Flatbush Zombies are among the musical influences of Blushhh Music
In music, everyone is influenced by someone. As a trio, Blushhh Music's sound is their own. However, as individuals, you can hear their musical influences.
Growing up, Sunnie's influences were MC Lyte, Lauryn Hill, Tupac, and Queen Latifah. Fast forward, her current influences are Drake, Timbaland, Missy Elliott, Dr. Dre, Kendrick Lamar, and J. Cole.
As a vocalist, Tali's influences come from the R&B/Pop side of the ledger. Michael Jackson's "You are Not Alone" was the first song she sang at 3-years-old. Like many kids who were influenced by their parents' musical preferences, Tali followed her mother's path and became a fan of Janet Jackson and The Jacksons. Tali later became a fan of Destiny's Child, Sade, Shakira, and Selena. Since she has been
Since Tali has been raponizing, Tali's hip-hop influences include NWA, Bone Thugs-N-Harmony, and Chance The Rapper.
Check out this video, Blushhh Music gives a sample of raponizing.
Just listening to Bunni Ray, you can tell her influences are Left Eye (TLC), DaBrat, and Lil' Kim. What is surprising is that she is influenced by modern day Kanye West and the Flatbush Zombies.
In their debut single, Old School Back, Blushhh Music's musical influences are on display, but in a way that is distinctly their own.
We got a little taste of Blushhh Music's raponizing, which is a blend of rapping with a Capella harmonizing.
Pick up Blushhh Music's debut single, Old School Back, on iTunes and follow these ladies on social media @BlushhhMusic