Brooklyn Nets Media Day: A Revitalized and Focused Team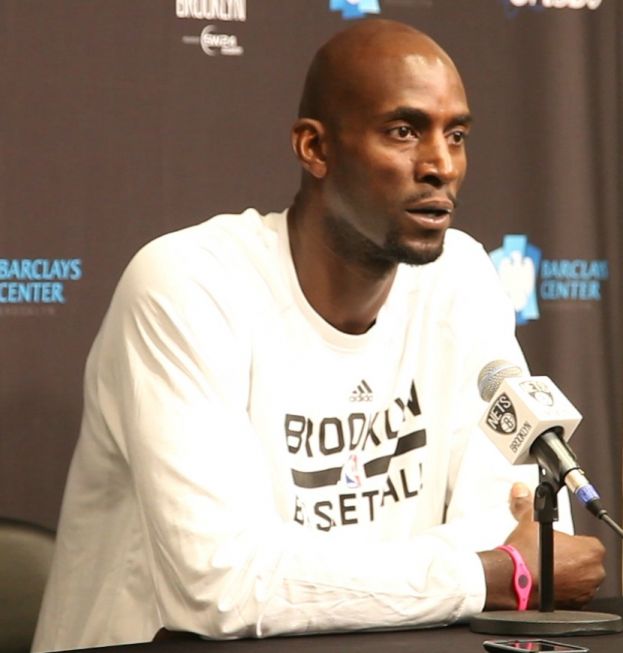 Photo Credit: Alexis Williams/What's The 411 Networks
Brooklyn Nets forward Kevin Garnett addressing the media
In this video What's The 411Sports reporter, Gregory Alcala gives his account of Brooklyn Nets Media Day, which was held on Friday, September 26, at the Brooklyn Nets Practice Facility in East Rutherford, New Jersey.
Greg told the What's The 411Sports panel of Bianca Peart, Glenn Gilliam, and Chris Graham that the themes of the day focused on health, motivation, and redemption. The Brooklyn Nets players appeared to be revitalized and ready to go. Brook Lopez is ready to play without restrictions, Deron Williams feels some improvement, and to a man, the respect for Lionel Hollins is palpable.
Watch Video About Brooklyn Nets Media Day
Kevin Garnett told the vast number of reporters in attendance that head coach Lionel Hollins has a presence, and as Hollins was the first member of the Nets franchise available for the press, I acknowledged exactly what Garnett was referring to. Hollins' press conference wasn't just filled with the generic "This is what we're going to do..." soliloquy, it was honest, very honest, straight forward, and relaxed. Hollins is a stand-up guy and answered every question from a relaxed state, as if he is incapable of being rattled. When asked how he was going to deal with the personality of one Deron Williams, who has been labeled "a coach killer,"
Hollins's simply answered with a smirk: "I have the reputation of being a player killer...".
Hollins wasn't just insightful regarding what he has in-store for this current blend of veterans and journey-men, he was actually quite funny.
Check out Greg's full article here.