Former New York Knick Anthony Mason Dies at Age 48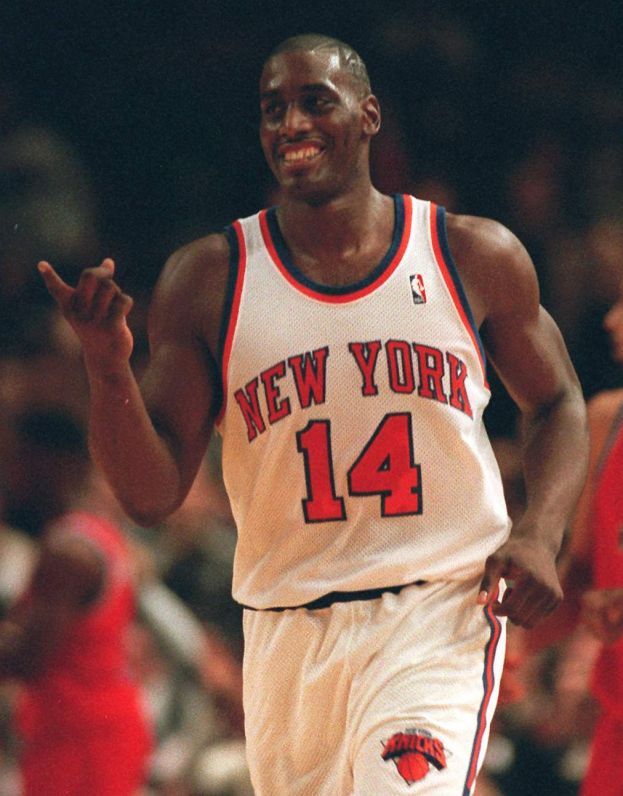 Former New York Knick forward Anthony Mason
Standout Player Loses Battle with Congestive Heart Failure
Anthony Mason, most known for his time with the New York Knicks and who helped the New York Knicks reach the 1994 NBA Finals, has died today at the age of 48.
Although many people knew Anthony Mason was battling congestive heart failure, the news of his passing, sent shock waves throughout the entire National Basketball Association and through New York Knicks fans in particular.
Standing at 6' 7" with a body that looked like a Mac Truck and to competitors, it probably felt that way, Mason will be remembered most as a fierce competitor and a defender of the "paint." In some ways, Mason was the embodiment of the hip-hop generation with his signature hairstyles, which the establishment didn't understand and are lame by today's standards.
Hailing from the Springfield Gardens neighborhood in Queens, New York, Mason played college basketball at Tennessee State University and was drafted by the Portland Trailblazers in the third round of the 1988 NBA Draft. Portland waived him shortly thereafter. Undeterred, Mason played basketball overseas in Turkey and Venezuela. He also played short stints in the CBA, USBL, as well as with the New Jersey Nets and the Denver Nuggets.
It was when Mason came to the New York Knicks in 1991 under Knicks Head coach Pat Riley, did his fortunes seem to change. Knicks fans knew Mason as the guy who came to work every day and gave the game everything he had. Mason led the league in minutes played in 1995-'96 (3,457), also setting a Knicks record with the number. He also led the league in minutes played per game in 1996-97 (43.1).
In 1994, along with Patrick Ewing, Charles Oakley, John Starks, and Charles Smith, Mason helped the New York Knicks reach the Eastern Conference Finals for the first time since 1973. However, the team lost the NBA championship to the Houston Rockets in seven games. Mason won the NBA's Sixth Man Award in 1994-95 as a member of the Knicks. In teaming up with Pat Riley and the Miami HEAT in 2000, Mason made his first and only appearance in the NBA All-Star game in 2001.
In a 2014 interview with the Moose and Maggie Show, Mason compared his 1994 New York Knicks team with the 2013-14 team, "We imposed our will," Mason said. "We were going to make it hard on you. We were going to be up in your face the whole game and we wanted you to know that. People dreaded coming into the Garden and that's the thing you want to get back to."
It should be noted that Anthony Mason also played with the Charlotte Hornets and the Milwaukee Bucks following his tenure with the New York Knicks.
Following Anthony Mason's passing, the Mason Family issued this statement:
"We would like to thank everyone for their heartfelt thoughts and strong prayers. Anthony felt each and every one. He fought like a warrior to the very end. Please keep your prayers and thoughts with us through this very hard time – it is a great loss for us. We ask for our privacy during this time."
Representing the New York Knicks, Phil Jackson, President, New York Knicks; and Steve Mills, Executive Vice President and General Manager of the New York Knicks; each issued a statement regarding the death of Anthony Mason:
Phil Jackson:
"As a competitor, there was none fiercer than Anthony Mason. Standing on the opposite end of the playing field, coaching in those great Chicago/New York battles, No. 14 in the Orange and Blue always stood out. On behalf of the entire Knickerbocker community, our condolences go out to his family. Rest in peace, Mase."
Steve Mills:
"For five seasons, Anthony Mason proudly donned a Knicks uniform like no other of his era. His New York City roots, his passion for the City game, his desire to win and his tenacity for defense made him a fan-favorite across the five boroughs, and beyond for every Knickerbocker. All of us here at the New York Knicks will remember Mase and cherish his legacy."
The Knicks held a moment of silence for Mason before Saturday night's game against the Toronto Raptors and aired a video tribute during the game.
Pat Riley, President, Miami HEAT issued the following statement.
"News like this is not only sad, but it's tragic. Anthony Mason was a very young man with a great family and friends. To lose him so quickly during his journey, especially to those of us that knew him, hurts. We had a great season in Miami experiencing Anthony as an All-Star with the HEAT, and I also had the privilege of coaching him for four years in New York, where he helped take us to the brink of a championship. There was so many great moments that we shared that I will never forget. Our prayers and sympathies are with his family. May God bless his soul."
Acknowledgements and condolences are coming in from around the NBA. Rest in peace, Anthony Mason, you will be missed.