Another Comeback for Iron Mike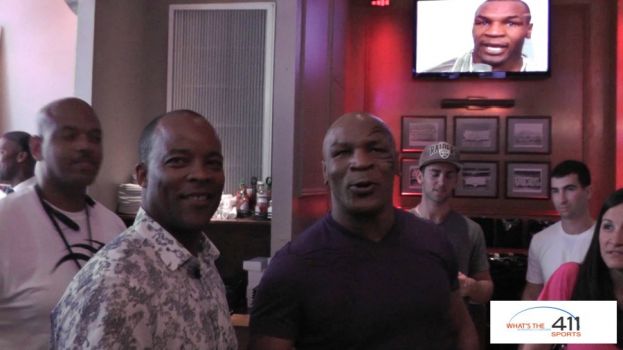 Photo Credit: Jesse Whitehead/What's The 411 Networks
Reporter and Author George Willis and Mike Tyson
Former heavyweight boxing champion Mike Tyson will be the first to admit that he's lucky to be alive today. He's lucky to be drug and alcohol free and he's lucky to have a wife that is with him and supports him fully and not because of his fame and fortune.
There has never been an athlete in modern times that has gained and lost as much as Mike Tyson has and we're not just talking about money. His rise and fall has been chronicled in the George Willis' book The Bite Fight: Tyson, Holyfield and the Night That Changed Boxing Forever.
Tyson joined Willis at the Bounce Sporting club in Manhattan to help promote the book. His entrance was very animated as he danced his way through the crowd, at one point doing his version of Michael Jackson's moonwalk to the pounding music.
In this video, Tyson talked about the book, how the death of Hector "Macho" Camacho affected him, his foundation and how he wants it to impact today's youth across the nation's inner cities.
Sports columnist Tim Smith, boxing analyst Harold Lederman and Willis talk about their most memorable Tyson moment.
WATCH VIDEO
Photo Credit: Jesse Whitehead/What's The 411 Networks
Videographer: Jesse Whitehead
Video Editor: Ruth J. Morrison