Danny Jacobs Survives Cancer and His First Fight Back in the Boxing Ring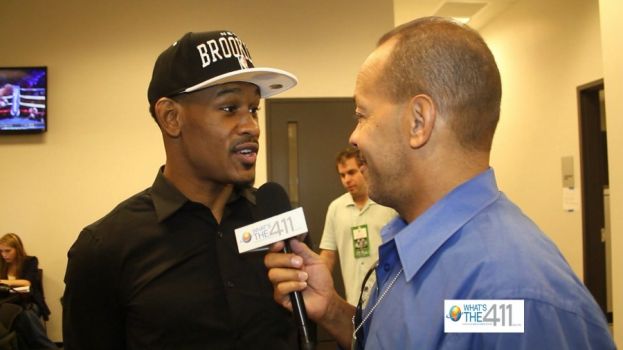 Photo Credit: Alexis Williams/What's The 411 Networks
Boxer Danny Jacobs talking with What's The 411 reporter Andrew Rosario
What's The 411's Andrew Rosario was bizzeee at the Garcia v. Morales fight at the Barclays Center on Saturday, October 20, 2012.
Wow, this was boxing in Brooklyn, baby! The first time in more than 80 years! And, on this night, there were so many people to talk to about boxing.
Andrew spoke with boxer Danny Jacobs in the media room at the Barclays Center after Jacobs won his fight against Josh Luteran by a knockout. Jacobs won at 1:13 of the first round on the undercard of the Barclays Center's inaugural boxing card of Garcia v. Morales.
This was Jacobs' first fight after fighting his most deadly opponent, cancer.
"I am on Cloud Nine, the feeling that I had, even right now, it's been hours after the fight, I'm still floating," Jacobs said reflecting on his win.
"I wasn't supposed to be here, this moment was not promised, the doctors said it would never happen," Jacobs continued.
What's next for Jacobs?
"I want to stay active as possible, I am not looking to call anyone out, I am not looking to fight any specific people, but I do want to step up gradually and appropriately," he responded.
Sounds like Danny Jacobs has a good head on his shoulders.
WATCH VIDEO: DANNY JACOBS