Boxer Zab Judah Number One in the World and Itching for a Fight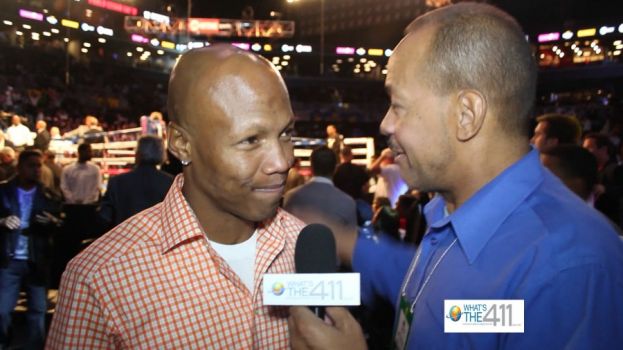 Photo Credit: Alexis Williams/What's The 411 Networks
Professional boxer Zab Judah talking with What's The 411's Andrew Rosario
What's The 411's Andrew Rosario was bizzeee at the Garcia v. Morales fight at the Barclays Center on Saturday, October 20, 2012.
Wow, this was boxing in Brooklyn, baby! The first time in more than 80 years! And, on this night, there were so many people to talk to about boxing. Seeing Zab "Super" Judah, Andrew excitedly greets him.
"What would boxing be in Brooklyn without Zab Judah, man, how you doing?! What do you think of the whole night, what's going?"
"I call this a soft opening right now, because a hard opening is going to be when Super Judah steps in there," Judah replies.
"But, so far tonight, it has been a great night of boxing, it is great to see the people come out tonight, and to have a place for Brooklyn to have boxing now," Judah continued.
Judah is expecting to fight Lamont Peterson as soon as Peterson signs the contract, which Judah hopes to be soon.
Although Judah is excited about boxing in Brooklyn, it will not be a dream come true for him until he gets the opportunity to step his feet into the ring.
So what will Super Judah's emotions be like when he finally steps into the ring?
It is hard to tell, but Judah said without hesitation, "I'm going to be turned up."
WATCH ZAB JUDAH VIDEO INTERVIEW